I first discovered George Holliday at the beginning of 2020 after I connected with Dean Knill who's debut single 'I Loved You More' was produced by George. After that, we lost count of all the insane singles that entered our playlists and George reached the top spot spot twice on our weekly chart. However, up until now George was best known as a producer. That is about to change.
Our virtual friendship began at the end of 2020, then George joined our The Power of Indie Music conference and at the start of 2021 he reached out to me and invited to start a music room on Clubhouse. This was an incredible experience of growing our virtual community and as George was teasing this track for a while you have no idea how much it means to us now that it is finaly available to everyone.
'Ivory Eyes' marks a brand new chapter in George's career and we suggest making some tea/coffee as this interview will take you on a journey!
Tell us about your journey up until the moment 'Ivory Eyes' saw the light of day?
The journey has been wild this last few years. I was a performing musician for live events, supporting the likes of Lionel Richie playing for AJ Brown and being fortunate enough to join JP Cooper's band on occasion too. The real dream was writing and producing music so I had to make a big shift and work out how I was going to cut through the 'noise' in the industry. Long story short the idea was to buy a bus and build a studio in it, allowing me to continue the touring life on the road without stunting my ability to write and produce. I built a production company with a small team called Made On The Road, and together we produced an album with just under 100 amazingly supportive musicians and friends around Europe which to this date has amassed over 700,000 streams!! Now, here we are today with the release of 'Ivory Eyes', the next chapter.
Do you remember what was happening in your life when 'Ivory Eyes' was born? What does the song mean to you?
I remember it well, it was an evening where I felt all drained out (those who know…) from the industry and the hours I was putting in. I just really felt the lack of 'control' the music industry gives you which was fighting with the ultimate control we generally have on our lives when we put our minds to it. This song is about my view of the world through my piano, hence where the title came from.
'Ivory Eyes' is about my view of the world through my piano, hence where the title came from.

GEORGE HOLLIDAY
In your life, you seem to be wearing quite a few hats (Songwriter, Producer, Founder, Singer, Landlord, Staycation Owner…) Which one of those you feel the most comfortable with?
I feel like the most comfortable to me is writing and producing as one session, especially if it's not to a brief or for somebody else. I feel I'm making my most honest music in those moments. One thing I've really tried to work on is tying them all together. So the future bus conversions will tie into the production company where I can run songwriting camps and providing an experience to other artists that want to make music on the road for a week, then everything becomes one which is much less stressful to think of!
As a producer you've worked on numerous tracks over the years. I'm sure that you have a queue of people wanting to work with you. How do you know who is the right fit for a collaboration/project?
To be honest it's all in the conversation and making sure we both compliment each other musically. I would never take on a project with an artist unless the fit felt right musically, it's never worth just making a deal for the sake of 'work' because that doesn't benefit anyone. It's GOT to feel right. Ultimately then you have awesome conversations with artists about releasing music, sharing what we have learnt, and making the most out of building a community together – just follow your gut instinct, and it's always a good time!
You mentioned that part of you is a bit anxious introducing George as a singer to the world. What makes you feel like that?
I think there's just a lot of vulnerability in this song, which I always try and push artists I work with to embrace – it's time to take my own advice so to speak. Plus, it isn't quite a straight laced genre so I just don't know how the world is going to respond to it. Ironically that's what the song is about, the lack of control we have on situations no matter how hard we work towards our goals.
You are one of the few people I know who seems to have their shit figured out pretty well. What would you say is the key to success when it comes to working on multiple projects/goals at one time?
Well first of all, I'm glad it comes across that way because it doesn't necessarily feel that way from this side. I don't necessarily have an answer to what is the 'key' but I'd say treating everything you do, even if it feels like a passion project, as if it was your full-time venture. If you treat a project like a 'thing on the side' it will always be that, but if you start to schedule in time into your day, plan out each stage and make sure you have dedicated time then all of a sudden it's a full-time job because you have so much to do in order to make things happen. Emails in the morning followed by some research and networking, maybe a case study and some practical creativity in the afternoon, then sharing that around behind the scenes getting feedback and stating to talk it out into the world… Get that in a rotation, and you'd be surprised how quickly things develop and time becomes scarce!
Let's travel back in time. Do you remember the moment you decided that music is what you want to do?
I actually don't remember that moment, it feels like I was born with that feeling! I started playing piano when I was 7 and landed my first job performing in a little cafe/bar down on a Marina when I was 15. I've never considered anything else with what I want to do. Yes I have other business ventures now, but it all filters into the pot of writing and producing music being the primary focus.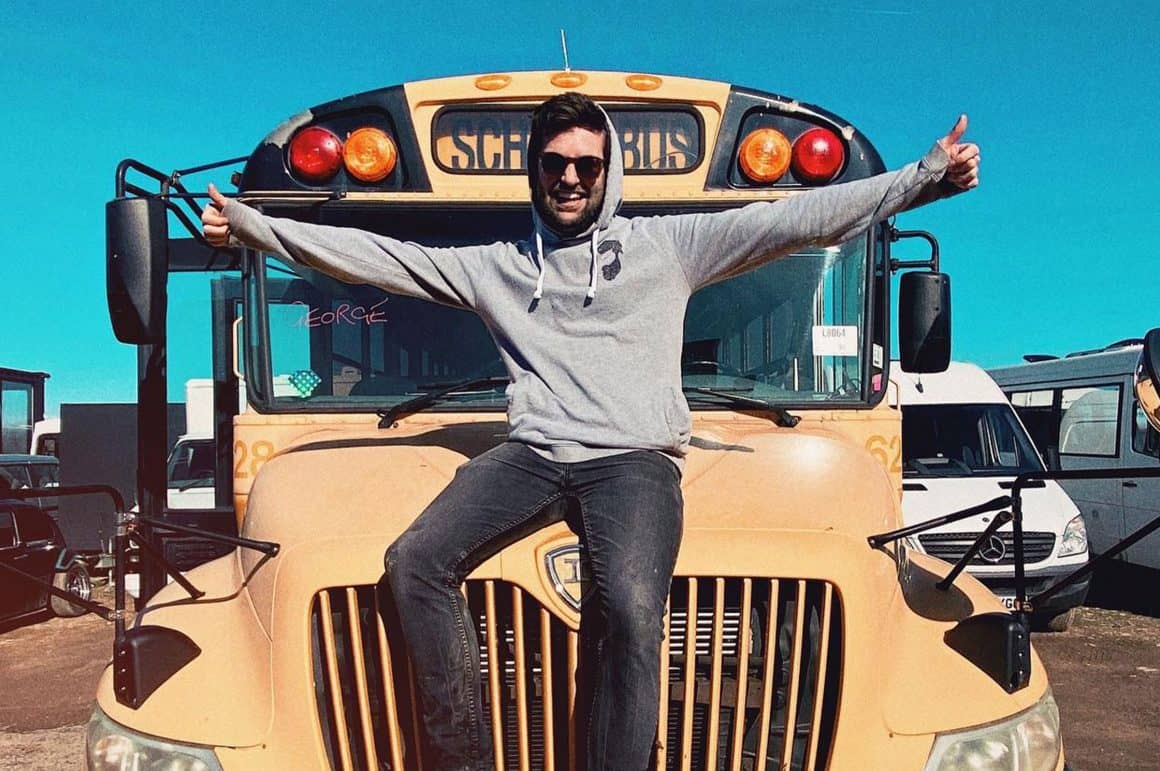 As a producer, how do you know when the song is finished?
Haha great question, I don't think you ever do consider it as 'finished' but one thing I feel I really understand now is at what point does the listeners/public notice it sounding finished. From that moment onwards the rest is artistic decision making and sometimes makes or breaks a record or sometimes elongates the process to a point where it kind of has a negative effect. Sometimes the negative effect is self doubt increasing in the music, sometimes it's lack of momentum with the overall artist project because it's ground to a halt finishing a song, sometimes it's slowly chipping away at the initial vibe/feeling of the song that made it special in the first place.
Everyone I work with has a different level of 'finished' and I have to be patient and accommodate for that feeling, but I also need to help guide the process too.

GEORGE HOLLIDAY
In 2020 the world stopped and isolation was introduced. As you work/live on a bus, how did that impact your life/creativity?
Actually I feel almost guilty admitting the lockdown really helped Made On The Road There was more time for artists to spend on their music and finally commit to what previously kept being put on the back burner for lack of 'time'. It was quite special to see the community grow around Made On The Road and passion really come to the forefront. I'd say the creativity was harder though in coming up with fresh ideas because the usual routine of travelling and finding inspiration around communities in Europe came to a stop. Interestingly though it was amazing where I found inspiration around me when I was forced to open my eyes.
Music to me is the language I feel most comfortable speaking

GEORGE HOLLIDAY
In 2020 you collaborated with our friend Luke Moseley and released a meditation EP as Pink Coyote. How did that come to life?
We were experimenting with different approaches to Spotify. Was there a way Spotify could support our music by finding more of a niche market? How hard truly is it to land playlists and momentum as an artist? Where is the attention now on Spotify? Can a cultural activity be connected to music to help push us as artists? These were all questions we were asking and Luke and I generally put ourselves on the line when experimenting before recommending to our artists so this felt like the right move to make. Plus, as producers we dont' get chance to cross paths often so it was a good excuse to get together and make some music!
What helps you find stillness in such a busy lifestyle you have?
I admit this is something I struggle with a LOT, balance. Keeping things fresh is what helps me though. One month I'll journal every morning, the next month I'll be doing yoga or meditation for an hour in my day to mix it up. At the moment I'm trying to spend more time dedicating to friends and family that I haven't spoken with, so I take an hour out to connect again and that brings a good balance. As creatives, I don't believe we settle on one routine, and we kick ourselves for it, whereas in fact it's the excitement of a new routine that keeps me committed to it and feeling healthier because of it…. Oh, and a good sleep routine!
While managing so many different projects earlier in the year you started a Clubhouse room where you were talking every morning. What was the biggest takeaway from those sessions?
I'd say the biggest takeaway I've had from those clubhouse sessions is the strength in community. As a creative working predominantly on my own I took a lot away from that regular morning connection and not feeling alone with my daily thoughts and feelings.
Which musicians shaped your universe?
This changes yearly but right now – Coldplay, RY X, SYML and James Blake
What would be your dream collaboration?
Coldplay for sure – i'd love to be in a room with Chris Martin and taking that time to just be in the music.
What does success in the music business mean to you?
I guess success will be a moment where I feel less pressure on who I am. I'm not sure that feeling will ever leave but this single in particular feels the most 'me' i've felt for a while and for that reason I feel I'm already having success. Success is a difficult word to define because you never feel you've reached 'success' when creating new boundaries for yourself. There's always another thing you want to achieve so I think we're all successful and achieving the things we wanted to do 5 years ago, we just dno't feel it because we're onto the next.
What would you like to be remembered for?
Being a committed and fair player in community.
What would be your advice for those who want to do music but they might need an extra push.
Who are you taking judgement from? Whatever is holding you back from your next step, work out who you are taking feedback from and who you shouldn't be taking feedback from. You'll never please everyone. Ed Sheeran, Beyonce, Colplay, Slipknot, Nirvana… they all have haters and people dislike what they do, but Ed Sheeran shouldn't be listening to the opinion of somebody that hates his genre of music because it's irrelevant. But also work out who you want to 'speak' to, because they're the ones you should be listening to.
Close your eyes. Imagine it's 9th of January 2022. How would you summarize 2021?
A time for growth, connection and a year when all the rules are out the window. Some people took time for themselves, some people grew businesses, some people learnt new skills and committed to themselves…. All are okay, and whatever we all did in our own lives was what we needed to do, and the world gave us a time to stop and reset.
Make sure to connect with George Holliday on Facebook » Instagram
---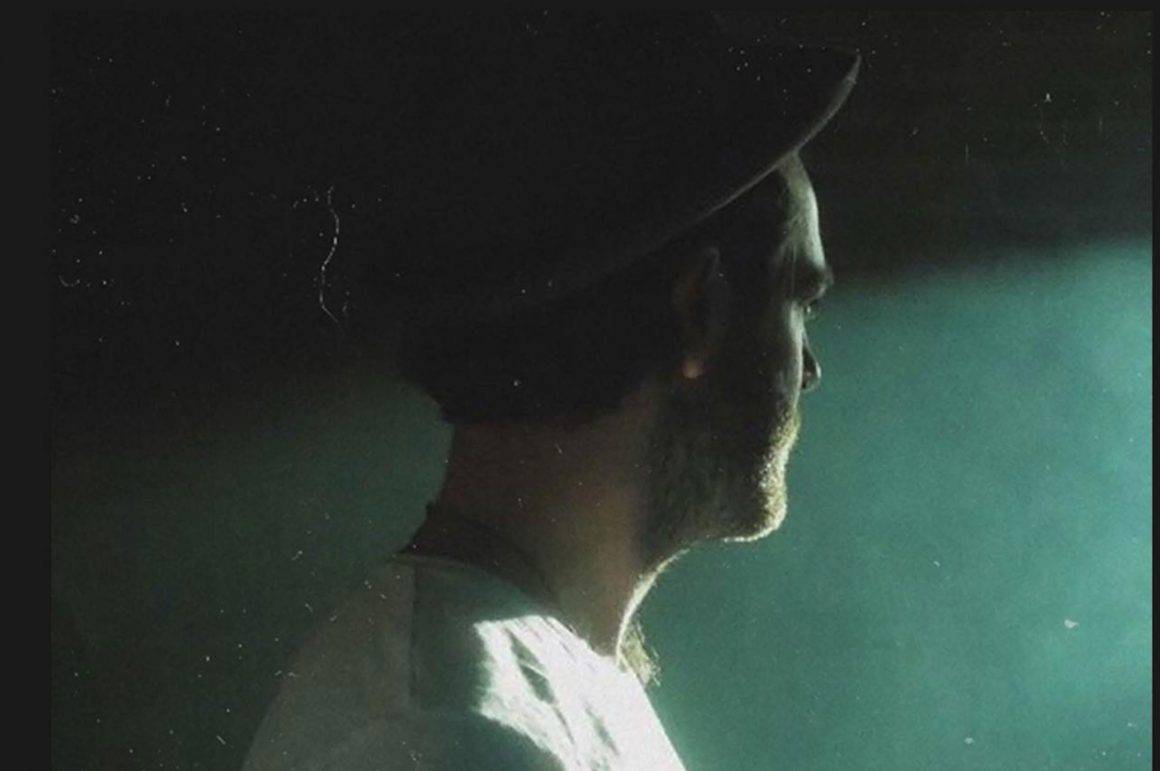 Introducing » Artists We Interviewed