Today we are super excited to introduce you to Tuxedo Cake! They're an up-and-coming San Diego-based outfit who first caught our attention when we heard their ridiculously catchy debut single 'Lover Boi'. Since then, they've gone on to release their debut EP entitled Paradox, and the band look set to start making some serious headway in the indie-rock arena. Chatting about how they all met, what their band name might have been, and their mutual love for Foster the People, please welcome Tuxedo Cake.
Welcome Tuxedo Cake – we're so excited to introduce you to our ever-growing audience today! We at Indie Top 39 love discovering bands still in their relative infancy, at least when it comes to their discography. For those who don't know, who are Tuxedo Cake, and how did you all meet?
Hey there! We actually all met in college. In fact, Tuxedo Cake was originally created as a senior project. We were tasked with writing 5 songs, creating merch, and putting on at least 1 show. While writing we just realized we clicked really well and decided to just keep writing and performing together.
OK, now I have to confess, I first discovered your music when I heard 'Lover Boi', and it's a tune that I still listen to multiple times a day! I was just instantly hooked on your sound. Do you remember the song's "birth" so to speak?
Our lead singer actually originally wrote and produced that song under his own artist page. The song was born when he and his friends were hanging out one night. All of them had recently gone through breakups and they just started to spit out lyrics. Dylan (our singer) took the song and ran with it. We decided to make an updated version and release it as our first song.
'Oscar' is another tune of yours that I've fallen extremely hard for. And I love the accompanying video for the track! What does the song mean to you and can you explain the concept behind the video?
Haha, that's actually super funny that you bring this up. 'Oscar' is actually the name of one of our members – he usually goes by Danny. The song is overall just about being… well… slightly sad. Sometimes people are sad and that's ok. The music video was made by a close friend that took it in a little bit of a different direction. The video seems to imply that the main character is mourning a death, but that's up to you to interpret.
Earlier this year you dropped your highly anticipated debut EP entitled Paradox, and you mentioned that when recording the EP, you all decided to "really explore what it means to be alive". Please tell us more.
Yeah, I think we all kind of agreed that life comes with a lot of emotions. I feel like a lot of our songs try to combine a lot of emotions together. 'Lover Boi' is a very lyrically sad song, yet the actual music is upbeat and happy.
We try to show that life is about experiencing a multitude of emotions all at once.

tuxedo cake
I imagine this is like asking you to pick a favourite child, but which tune of yours are you most proud of to date and why?
Honestly, it is probably different for each of us, but 'Oscar' seems to be the one we all put the most time into. We ran into some issues within the process, but we worked hard to overcome them. It's kind of like our little baby.
I know that you draw on inspiration from certain genres like funk, surf-rock, and indie-rock, but who would you put down as some of the band's biggest musical influences?
Bands like Foster the People and Last Dinosaurs probably have the biggest direct influence on our sound. However, each of us comes from very different musical backgrounds so we each bring unique influences.
I'm a sucker for having to know the origins of a band's name or an artist's moniker. I just can't help myself! How exactly did Tuxedo Cake come about?
To be honest, we wanted Huevos Rancheros, but that was taken.

tuxedo cake
Our lead singer loved Tuxedo Cake and he convinced us to take the name. We have eaten around 5 cakes in total now.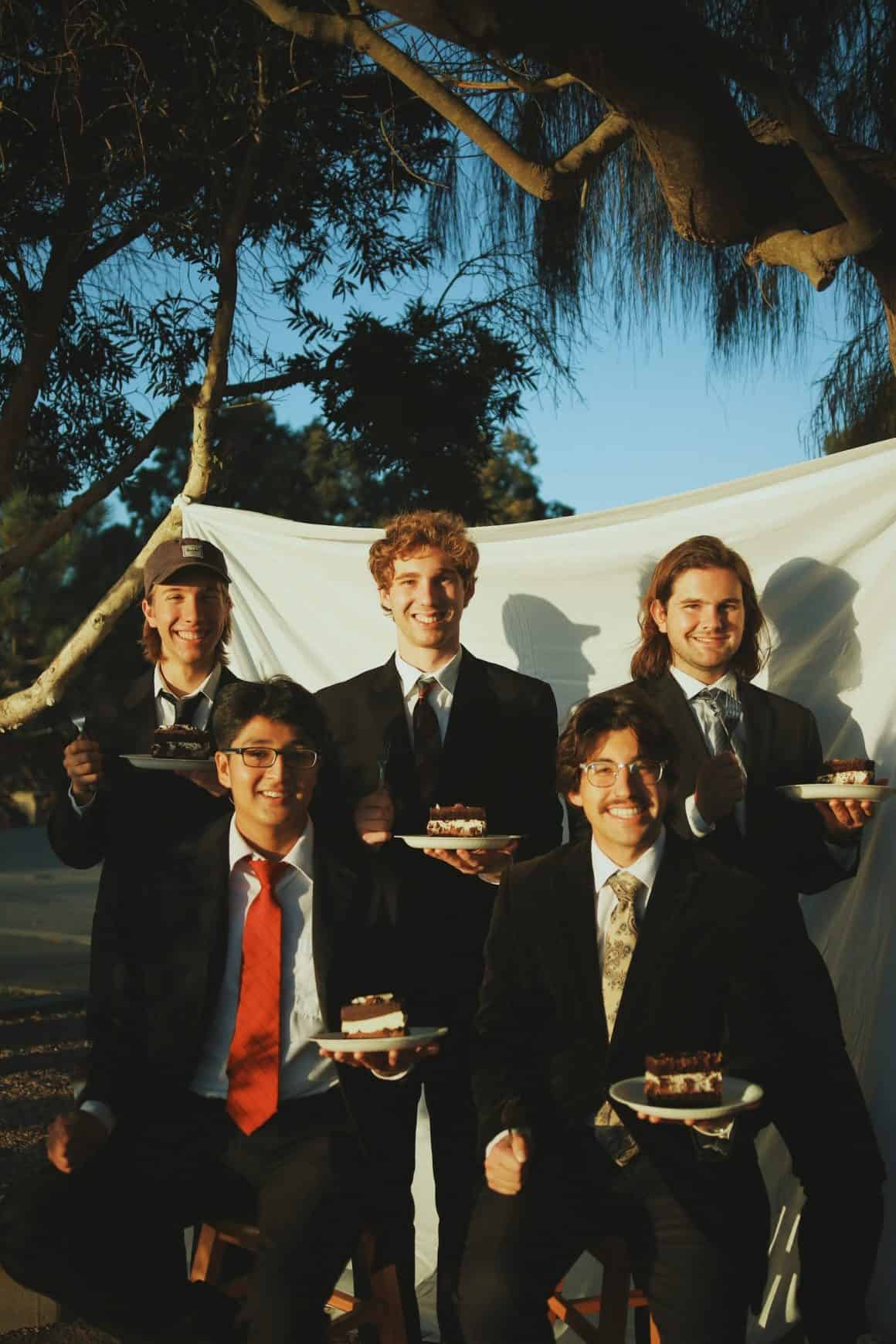 Besides music, what other interests tie you all together? Walk us through a non-music day in the life of Tuxedo Cake and its members.
As I said, we are all very different people. Some of us read a lot, like a lot a lot! While some of us like to surf. We all enjoy watching baseball together (shout of Padres). We also love eating food. We go out to eat at least 4 times a week.
What would being successful in the music industry look like to you?
Being able to do music full-time would be so rad. But at the end of the day, we just love making music and performing. Going on tour is kind of a dream for all of us so we have been working hard to be sure we can put on a great live show for people.
German philosopher Friedrich Nietzsche said that "without music, life would be a mistake." What would your lives be like without music?
Probably very vanilla. Music has allowed us to experience a plethora of things.
Honestly, most of our closest friends were made from working in the music industry.

tuxedo cake
Which series or movie could you imagine your music perfectly fitting into?
Transformers
You're allowed to collaborate with any musician or band. Who do you choose?
Foster the People
Thank you so much for chatting with us Tuxedo Cake, it's been an absolute treat! What can we expect next from you guys? Dare we dream of a full album?
That's not too far off! We have been performing 2 new songs with many more on the way!
Make sure to connect with Tuxedo Cake on Instagram
---
We added Tuxedo Cake's single 'Lover Boi' to the playlist of all the artists we interviewed so far.
Don't be shy to give it a listen!