Irish-based singer/songwriter, Padjo Dolan, recently released a cracking new tune called 'Hazel Eyes', and we at Indie Top 39 instantly fell in love. Deciding to go solo about two years ago, you could say that Padjo's timing was not ideal. The artist, however, chose to look at the positives and used the time to compose new music. We were delighted when he agreed to be interviewed by us, and talk to us about his creative process, what song he'd "steal" if he could, and what albums he'd take with him to a desert island. Please welcome… Padjo Dolan.
Hello and welcome Padjo! So I know that previously you've been involved with numerous bands throughout the years, but now you've taken the giant leap of going solo. What led you to this decision?
Hello and thanks for having me!
Correct, I have been in my fair share of bands over the years! We mainly played college bars and very small venues and I always wanted to take it to the next level and put out some original music, but I repeatedly found it difficult to assemble a group of committed musicians to get into the studio with and make it happen. I decided about two years ago that if I was going to make it happen, a solo project was the best way to do that. I reached out to the guys in Camden Studios and they couldn't have been more helpful!
You recently released 'Hazel Eyes' and I have to admit – I've had it on repeat for a couple of days now! It's such a quality tune! What does it mean to you and how proud are you of the track?
Thank you so much!
'Hazel Eyes' epitomizes exactly who I want to be as an artist.

padjo dolan
It encapsulates everything I love about rock music; vulnerable lyrics, hooky melodies, high energy rocking tunes.
The song is all about taking a leap of faith and "heading down to Mexico" if that's what your heart is telling you is right!
I got to work with some of the best musicians in Ireland on this track; Cian Boylan, Conor Brady, Dave Hingerty, Robbie Malone, and of course Donna.
Song ideas can often evolve when recording, but 'Hazel Eyes' turned out exactly how I hoped it would! I feel like everything clicked just right in the studio and I'm very happy with the finished product.
I am very proud to say that I wrote this one, that it is my song, and I owe a huge thanks to Cian and Conor of Camden Studios for helping me bring the song to life.
Staying with 'Hazel Eyes,' I know that Donna Bissett provided the beautiful background vocals for the song. How did the two of you meet and how did she end up jumping on the track with you?
I have to credit Cian Boylan who produced the track for getting Donna on board!
We had a discussion about backing vocalists and Cian intuitively suggested Donna would be a great fit. Donna has some super tracks of her own and I was thrilled to have her involved. She has an incredible vocal range and her backing vocals definitely bring the track to life!
I also read that the track was recorded during a break in the lockdowns last summer. How difficult has it been navigating your way as a musician in the middle of a global pandemic?
It has not been easy for sure. I embarked on this solo project just as we entered the pandemic, so my enthusiasm was curbed on a few occasions. It did however afford me plenty of time to write and arrange, and as a result, my debut album is almost complete! I must acknowledge that I was one of the lucky ones that managed to get some studio time between lockdowns. I know a lot of musicians didn't get that outlet and I am very grateful for it.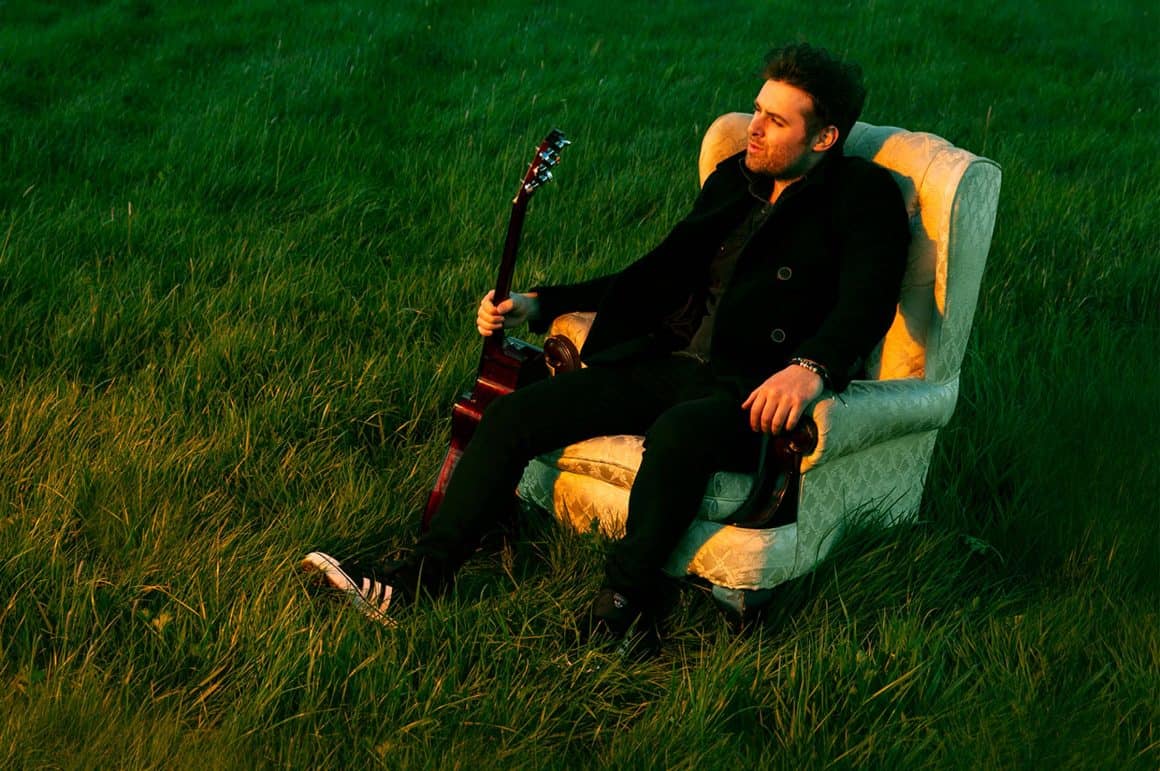 We always love finding out about artist's creative processes, and how they take an idea and transform it into a song. Could you tell us a bit about your creative process?
Yes of course! Probably, like many musicians, I have hundreds of voice notes on my phone that comprise of different riffs, lyrics, beats and so on. I basically keep documenting these ideas until the pieces of the puzzle come together. When that happens, I always to try pair the music with suitable imagery that tells the story of a past situation or a possible future one! In this case, the listener is getting up to no good down in Mexico! It's hard to get into the creative flow sometimes.
Like everything in life, it is best not to force it, and my best ideas often arrive when I am least expecting them!

padjo dolan
I know that bands like U2, Oasis, and Bon Jovi are huge influences for you, but who else would you credit, or give a shout-out to, for helping shape your overall musical soundscape?
This is a great question! There are so many artists that have influenced me outside the above mentioned from a musical point of view. Close to home I would have to say The Frames and Mundy and The Coronas have featured heavily on my playlists over the years. These are guys that have really mastered their craft and the way that their respective audiences engage with them is a testament to that. I would also credit John Mayer. As a guitarist myself it is fascinating to observe him transform simple movements and patterns into megahits!
I came across the music video for your previous single 'Blunder' – another cracking tune by the way – and the video is beautiful! Whereabouts was it filmed?
Thanks very much! The video was shot in Connemara County Galway, along the Wild Atlantic Way on the West Coast of Ireland. Everything went right for us, the weather, the van, the sheep! We are so lucky to live in a part of the world with scenery and beaches like that and I think the video really showcases this. We had a ball making it and hopefully will get a chance to shoot more videos down the line!
For such a small country, Ireland has produced some remarkable talent. I just think of the likes of U2, Enya, Thin Lizzy, The Cranberries. The list is endless! Do you feel lucky to be based there?
You are right, Ireland has produced some unreal talent and some of the biggest soundtracks in the world come from here; 'Beautiful Day', 'Linger', 'The Boys are Back in Town'!
I have spent some time living abroad and I do think there is a perception that Irish artists bring an extra bit of magic to the table.

padjo dolan
So yes, for sure, as a musician I definitely feel lucky to be based here!
OK, Padjo – desert island time! You're allowed to grab 3 albums before being stranded on an island. Which do you choose?
'All That You Can't Leave Behind' by U2.
'Heavier Things' by John Mayer.
'Appetite for Destruction' by Guns N' Roses.
I could listen to any of those on repeat for days! In fact, I have all 3 CDs in my car for emergencies!
German philosopher Friedrich Nietzsche said that "Without music, life would be a mistake." What would your life look like without music in it? And what fills your days when you're not creating?
He was not too far wrong to be fair to him! I think everybody will appreciate the power of music a little more as live events start to return.
Music is definitely a drug for me. Now and again a song comes along with a euphoric chorus or a hypnotizing melody, (I am often guilty of overplaying these and ruining them in the short term), and those moments are definitely what I live for and I endeavour to create in my own music. One good rock song can change the world!
When I am not creating I am working! My current 9-5 is in the construction game which is keeping the music dream alive for now. I am very fortunate to have my job and putting in the hard graft really makes me appreciate the days I do get to spend in the studio or playing shows! Fingers crossed I can do it in a full-time capacity down the line.
If you could ' steal' one song in the world and claim it as your own, what would it be and why?
Tough Question. I do regularly exclaim "I wish I wrote that song!" There are so many of these but the most recent one that comes to mind is 'Star Star' by the Frames. It is such a simple song but so subtle and beautifully arranged. A real work of art from Glen and Co.
What would success look like for you in the music industry? And what are your overall thoughts on the current state of the industry?
I think there is a gap in the market for some real hearty rocking tunes and I hope I can fill that void. I would love to sign a deal with a label and tour the album around the world once it is complete. I really believe my music can have a positive impact on people so success for me would be having it heard by as many people as possible!
I guess I could say that the industry is in tatters at the moment on account of the pandemic, but the musicians and crews alike are some of the most decent people and hardest workers I know. I have no doubt that the industry will bounce back and fingers crossed will be booming again in no time.
You're allowed to collaborate with one musician or band. Who do you choose?
I would, of course, love to work with some of my heroes on an old school rock track. But if I had to choose somebody right now – Billie Eilish would be an interesting one I think. What she has done over the last few years has been revolutionary. We could come up with something pretty cool I am sure!
What does your musical future look like?
In the short term, I am hoping to finish my debut album this side of Christmas.
I have put my heart and soul into it and I'm really looking forward to getting it out into the world. There will also be at least one more single before the new year.
Other than that – lots of gigging and ultimately an album tour if everything goes to plan!
Make sure to connect with on Instagram » Twitter