To Hell With Tradition is the indie music solo project of German-based singer/songwriter, multi-instrumentalist, and producer Achim Hofmeyer. When I first heard his single 'Eggshells', I was instantly intrigued by his unique and eclectic sound, and quickly found myself diving deeper into his discography. What I found was a passionate and uninhibited artist who makes his own rules. We at Indie Top 39 were thrilled when he agreed to be interviewed by us, so without further ado, please give a warm welcome to To Hell With Tradition.
Hello and welcome Achim! We're really delighted to introduce you to our ever-growing audience today. It's rare that a musician puts out so many albums in such a short space of time these days – but I for one am certainly not complaining! What made you choose that route for your music?
Thank you so much for having me! Well, to be honest, the frequency of my output took even me by surprise! It was certainly not a rational decision to go this way.
I simply give in to the natural flow of things.

to hell with tradition
This might be compensation for the preceding ten years of my unintentional creative abstinence, but whatever it is – I am truly grateful for it.
My introduction to your music was when I heard 'Eggshells', taken from your brand new album Blurred. It was such an intriguing, dreamy, and fresh sound, that I was instantly drawn to it. What does the song mean to you?
'Eggshells' is special in the way that its evolution has absolutely stunned me. When I started with the first vague structural impulses, I was even a bit hesitant if this could be anything. But then, on every step of the way to the final production, everything just seemed to fall into place effortlessly, as if the song composed and produced itself. Even the raw recording left me fascinated. Being grateful for and proud of all the songs and the album as a whole, I feel that due to this effortlessness during its creation, 'Eggshells' is the purest connection to my artistic vision yet.
Another tune that I've been really getting into is the album's opener 'Drover'. It's just beautiful and sets the scene perfectly! Do you remember the song's "birth" so to speak?
I remember coming up with the basic tune and structure very instantly, however, heading in a completely different stylistic direction in the beginning. Most likely I was still very much in the mindset of Stitches, Blurred's predecessor in 2021, on which I use a lot of uptempo staccato piano sounds. 'Drover' simply didn't work with this approach. And then, the moment I felt stuck and just randomly played the tune in a somewhat resigned mood, it struck me that this is exactly what the song calls for – slow pace, no drums, no gadgets.
I'm sorry to pose such a tough question so early on, but what is your favourite track from your new album?
This is like asking a parent to choose a favourite child. At the risk of sounding presumptuous: the sum total of my songs – past, present, future – is the sum total of my authentic self. No part is more or less essential than the next. But after all, I've given my thoughts on 'Eggshells' earlier on, so I hope that the combination of answers gets me off the hook!
Now, you might not believe me, but Heidelberg is a place that I've always wanted to visit in Germany. It has a magical, fairytale-like look to it. What is it like being based there and do you find inspiration in your surroundings?
By all means, come and visit! I have a special connection to this place. As a child of an army officer, I was relocated all over Germany every other year during the first 13 years of my life, until eventually I was sent to boarding school in Heidelberg where I was finally able to form long-term connections for the first time. This is also where I started to pick up the guitar and wrote my first songs. I didn't truly understand the value of an actual home base until I moved away from Heidelberg for a couple of years.
Ever since I moved back in 2019, I feel truly grounded and connected.

to hell with tradition
Generally, with To Hell With Tradition, I draw inspiration from within rather than from external stimuli, but being back here has enabled the inspiration to flow consistently.
I love the eclectic and diverse range of your music, so I'm excited to hear your answer to this question. Who are some of your biggest musical influences? Who did you grow up listening to?

That is a tough one since my parents must have had about 15 hours of music in their mixtape collection that we would listen to whenever we took a ride in their old yellow BMW – mostly late 60s to early 70s power pop, disco and UK rock pieces. Looking back, some of it I would still vouch for, like the Stones, the Beach Boys, Queen, or the Beatles, of course, but some of it is just straight-up cheesy, like The Equals, or The Rubettes. This is where I draw my love for layered vocal harmonies from.
One band that still stands out today is The Kinks. 'Death of a Clown' and 'Waterloo Sunset' still make me cry with their haunting beauty.

to hell with tradition
We at Indie Top 39 are always intrigued by the different approaches that bands and artists turn to in their creative process or processes. Can you tell our readers a bit about yours? How do you take an idea and turn it into a complete song?
I consider music to be something deeply intuitive and emotional, so there is no hard rational aspect to the way I am approaching a composition. There are two phases, however, I can clearly separate – the musical structure and the lyrics. With Blurred being my third album in 3 years, I can see a repetitive pattern in the process. First, I play the piano or the guitar more or less at random and sooner or later, I am attuned to the flow of inspiration. Suddenly there is this short chord progression, accompanied by this involuntary humming, and it all falls into place.
I continue this process on a daily basis until, eventually, I have 10-12 song structures. Usually, by that time, the involuntary humming will have given birth to scattered individual lines of lyrics. Then, sooner or later a contextual concept for an album takes shape and I get the creative impulse to start writing corresponding lyrics, which then again happens in one marathon of a couple of days.
I'm a sucker for having to know the origins of a band's name or an artist's moniker. I just can't help myself! How exactly did To Hell With Tradition come about?
The name is actually the title of a song I wrote when I was still with my band Mellow, an indie rock trio from Heidelberg – ages ago. When I started out with this solo project in 2019, having just turned my life around leaving conventional paths, I instantaneously felt that this is the name for me. Not only does it reflect my personal life, but also the intention to refuse to settle for any particular musical genre or arrangement approach – I am not doing it as a consumer, so why would I want to do it as a creator?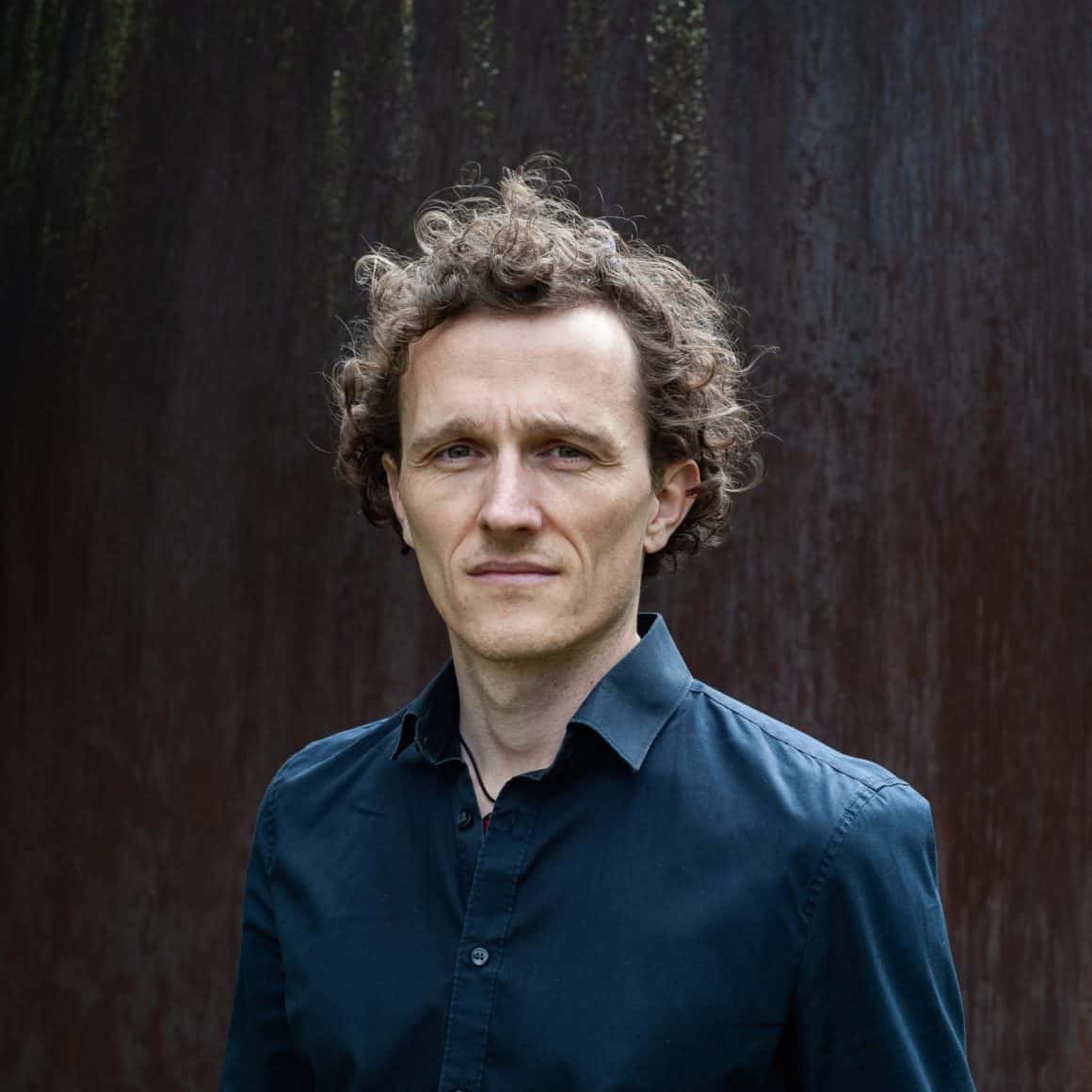 What is one thing about the music industry that you would change if you had the power to?
Very simply put, I would relieve any purely business-minded person of their duties. The music industry stopped being about music decades ago – and here, I am referring to music as an art, not a craft. We could radically rid ourselves of tons of soulless mass-produced garbage and free space in our increasingly limited attention span for actual art. The ironic thing is, that such a radical paradigm shift would not even hurt overall sales or streams. After all, the audience is out there.
OK, Achim – desert island time! You're allowed to grab 3 albums before being stranded on an island. Which do you choose?

Radiohead – OK Computer
Leonard Bernstein, New York Philharmonics – Gustav Mahler Symphony No. 10
Esbjörn Svensson Trio – Viaticum
If you could only pick one for the rest of your life, would you pick listening to music or creating music?
Creating. I tried without (unintentionally). This just resulted in mental and physical agony.
If you were allowed to collaborate with any musician or band, who would you choose and why?
That would be Tom Waits. Even though he strikes me as a loner (at least I am not aware of any notable collaborations), and I found that I really thrive in the complete independence from any creative debates and compromises, I cannot help but be curious about what this would sound like. I have admired his unique and authentic style for ages. It would be an honour.
Achim, I can't thank you enough for chatting with us today! It's been a real treat! Just before we let you go, what comes next musically for To Hell With Tradition?
Thank you again for having me! Somewhere on my future path, I really want to bring all this to the stage and finally play live shows, but given my arrangement, I need to headhunt a couple of fellow musicians first. For the time being, I am already working on album number 4 which I'll most likely start recording this winter. So you see, I am keeping up the pace!
Make sure to connect with To Hell With Tradition on Instagram » Facebook
---
We added To Hell With Tradition's single 'Eggshells' to the playlist of all the artists we interviewed so far.
Don't be shy to give it a listen!