Formed during the height of the worldwide pandemic, The Vig Arcadia are a Detroit-based act that combines alternative rock with pop, a little blues, and even a little funk thrown in for good measure! We at Indie Top 39 first discovered them via their insanely good single 'Juicy Bitters' and were so happy when they agreed to be interviewed by us. Talking to us about their 3 singles, some of their biggest influences, and what success looks like to them, please give a big welcome to The Vig Arcadia.
Welcome, The Vig Arcadia! We're really excited to introduce you to our ever-growing audience today! We at Indie Top 39 love discovering acts that are still in their infancy. I know the band came together during the pandemic, but how exactly did you all meet up?
Each of us has pursued music separately since we were young, and some have even been in other bands together before this. When things shut down we all had a lot of time on our hands so we naturally started jamming!
Your single 'Juicy Bitters' was my introduction to your music – and I was instantly hooked on your infectious sound. It's honestly the perfect indie-rock tune in so many ways! Please tell us what the track means to you.
Thank you! 'Juicy Bitters' was written about that feeling you get when you meet someone that you're crazy about; when you get that butterflies feeling. It's the head over heels, and longing to have them.
I have to say that I feel like your most recent single 'Horrible Disease' reaffirmed my first instincts about your music. It's another quality track that just hits you straight away! Who do you hope the song resonates with the most?
'Horrible Disease' was written to exemplify the womanizers out there and how disgusting they can be. We wanted the sexy, funky sound to be something people are drawn to, and the lyrics to be something everyone can relate to.
Now, I can't just leave out your "first-born" which was 'Walk Away'. What made you choose that song as the very first tune to introduce yourselves to the world?
'Walk Away' was the first song we put together that we felt really embodied OUR sound. It's a great combination of funk, blues, pop, and rock, that you can't help but dance to. Each of us put our own spin on our parts and we couldn't wait to share that with the world.
I know that you all come from very different musical backgrounds and styles, so I'm very excited to hear your answers to this question. Who are some of your biggest musical influences?
Great question! We each definitely have our own style, but strangely enough, we all listen to and enjoy many of the same influences. You can hear in our songs the inspiration from Motown, Hippo Campus, Black Sabbath, Coldplay, Red-Hot Chili Peppers, Prince and many more.
We at Indie Top 39 are always intrigued by the different approaches that bands take when it comes to their creative process. Can you tell our readers a bit about yours? How do you take an idea and transform it into a song?
Like most artists, our songs usually start with a catchy guitar or piano riff that someone creates. From there, our vocalists start "hearing" a melody and lyrics that fit the feel of the song. Everyone contributes instrumentally, and even lyrically.
Sometimes our music is created out of a very emotional experience, where lyrics and melody just kind of flow out of you. That usually makes for the best songs.

the vig arcadia
I'm a sucker for having to know the origins of a band's name. I just can't help myself! How exactly did The Vig Arcadia come about?
The Vig Arcadia means the debt that we (society) owe to nature. We couldn't decide on a name for quite some time. One of our guitarists was on vacation passing through the town of Arcadia and we landed on our name!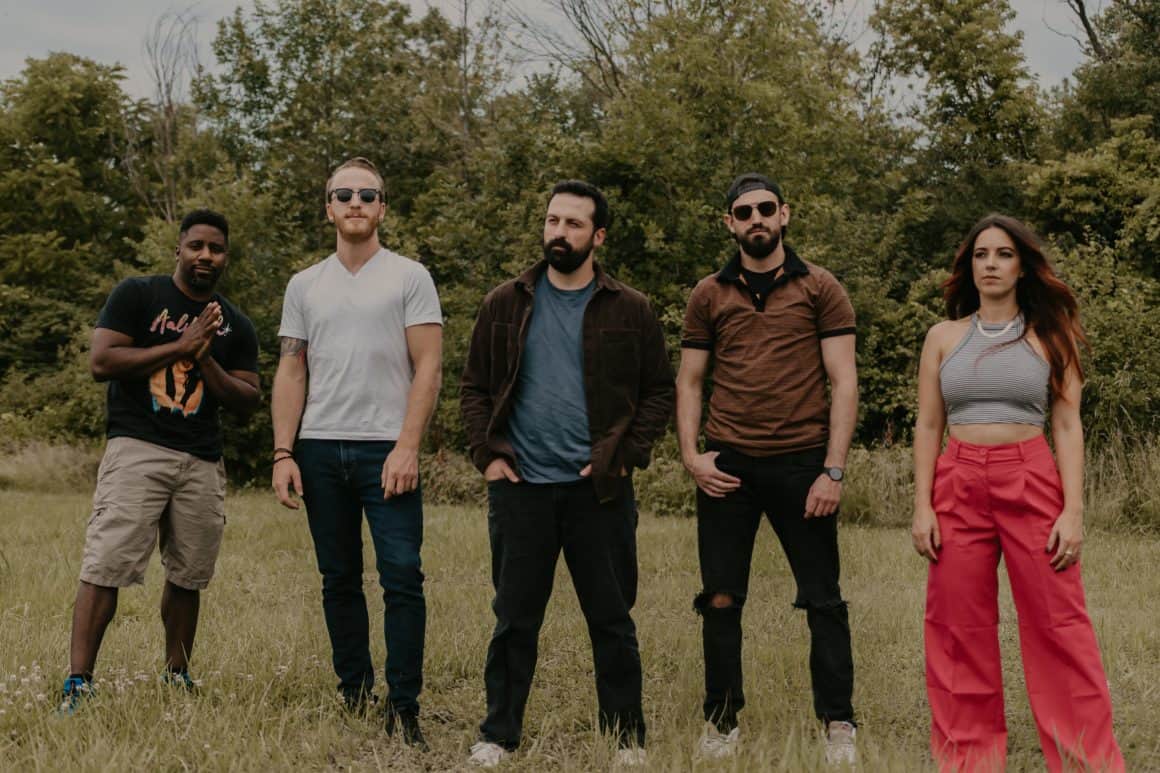 Which of your lyrics would you like to see printed on a t-shirt?
"Cold-hearted, thick woman" and "You're such a dream".
What would being successful in the music industry look like to you? And in a similar vein, what are your overall thoughts on the current state of the industry? What would you change if you could?
Success to us is playing live for fans all the time and having our music become known.

the vig arcadia
We'd love to tour and play with other great artists, and have our singles and albums streamed/played everywhere!
The industry now seems very money driven. You hear of people getting radio play and exposure because they paid for it, not because of their talent. If we could change anything, it would be creating an avenue for new artists to get adequate exposure. There is so much talent all around us, but very few get seen or heard.
OK, if you could, as a band, "steal" one song in the world and claim it as your own, what would it be and why?
This is a tough one because there are so many great masterpieces out there that we love and are inspired by. But if we had to steal one, we'd probably choose 'The Chain' by Fleetwood Mac. We love the different styles that Fleetwood Mac use throughout their songs. The unique melodies, the different vocal layers, and the many instrumental changes in 'The Chain' make it a rare and legendary song.
What do you love about being musicians? And on the flip side, what are some of the biggest challenges that you've faced so far?
Being a musician is the best feeling. For people that have a creative drive inside of them, fulfilling it is so gratifying and therapeutic. Creating art through music is something each of us feels like we were born to do. When we're not doing that, or don't get to do it for too long, life is not as bright or full.
As a new band, we face the same struggles that every other new artist does. Trying to get our music heard and streamed; booking large venues and getting that exposure.
Persistence and staying relevant are key, so we're focused on playing live and releasing music as much as possible.

the vig arcadia
You're allowed to collaborate with any musician or band. Who do you choose?
We'd have to say, Prince. He was such a creative and forward-thinking artist. We pull a lot of inspiration from his pieces and style. To collaborate with someone like that would be a dream come true.
Thank you so much for chatting with us, it's been a real pleasure! I believe you have a self-titled debut album on the way. Is there a release date? And, in a broader sense, what do you hope for in your musical future?
We're gearing up to release an EP this winter, so you can expect the very first album to come hopefully in late spring! We really just want to play live, grow our fan base, and write and release new music to become well known!
Make sure to connect with The Vig Arcadia on Instagram » Facebook
---
We added The Vig Arcadia's single 'Juicy Bitters' to the playlist of all the artists we interviewed so far.
Don't be shy to give it a listen!