Elijah Mann is an electro-folk singer/songwriter who's based in Brooklyn, New York City. Just a few days ago, he released an incredible new tune called 'Dust Storm Darlin", and we at Indie Top 39 have had it on repeat ever since our first listen! We absolutely loved his previous release 'Clementine' as well, and were so happy when he agreed to be interviewed by us. Talking to us about his lockdown experience, his admiration for Anaïs Mitchell, and the success of his Carly Rae Jepsen cover, please give a big welcome to Elijah Mann.
Hello and welcome Elijah! We're extremely excited to introduce you to our ever-growing audience today! So, as you know, I fell pretty hard for your most recent single 'Dust Storm Darlin", but I know that your musical journey started a while ago. What has led you to where you are now musically?
It took me a while to find this particular path. Growing up I really only listened to show tunes (I was a huge musical theatre geek) and bands from the 60s and 70s that my dad would play in the car (Elton John, Paul Simon, Rolling Stones). At 13 I bought my first guitar and got really into harder rock like Led Zeppelin and AC/DC, and a few years later dove deep into the "coffeehouse" genre.
Throughout high school, I was in some pretty horrible bands, which got me started in songwriting. I ended up going to school for music and spending my off-time busking. That ended up being a masterclass in live performance. Post-college I moved around a lot, trying out a bunch of different music scenes before finally landing in New York, where I live now.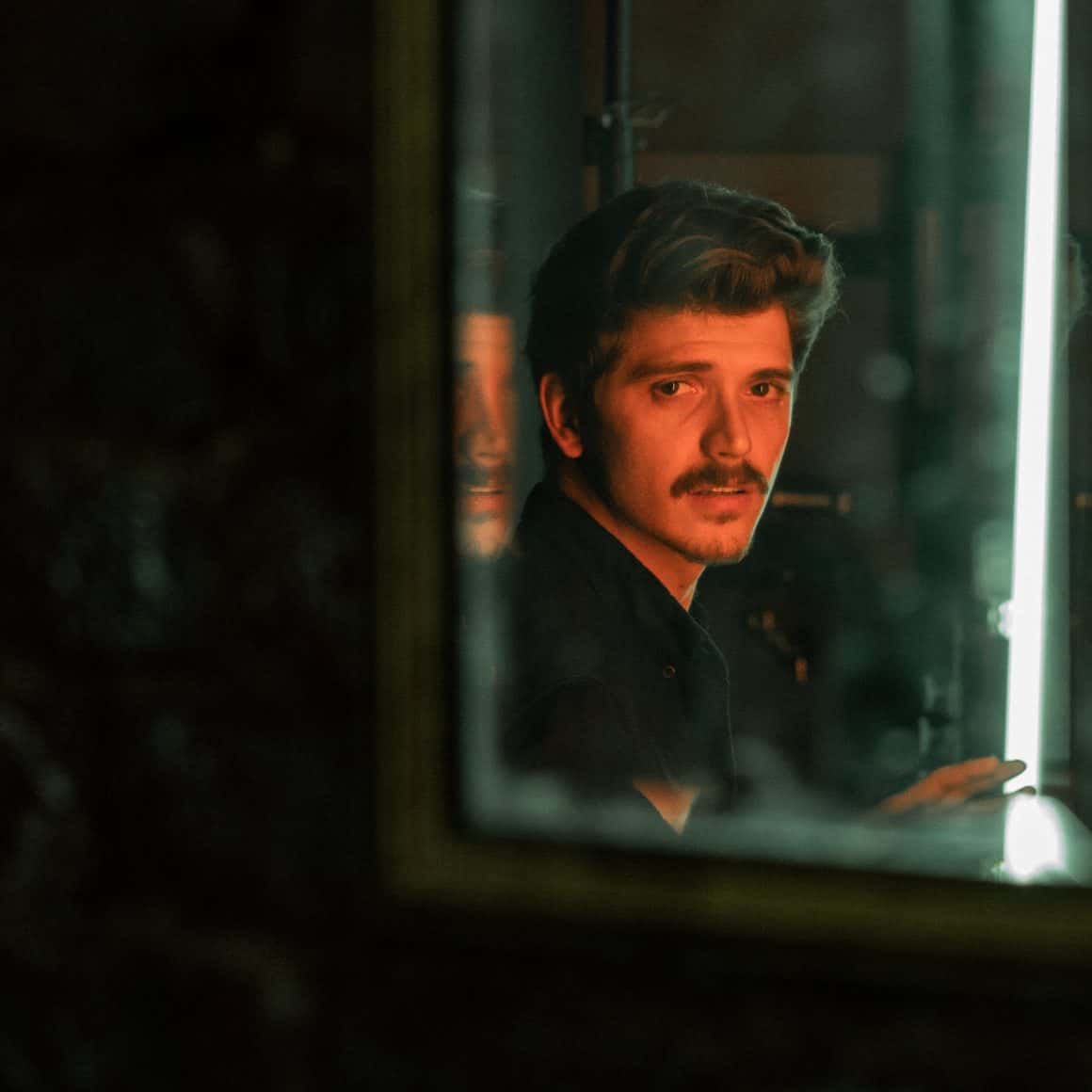 'Dust Storm Darlin" is a deeply personal track, and I think it's the honesty and sincerity of everything that first caught my attention. What does the song mean to you and how proud are you of it?
It's funny, I started writing 'Dust Storm Darlin" because I thought the story of the Mars Rover was beautiful and I thought it'd be interesting to try and write through the lens of a wildly romantic scientist. Every draft I went through was too on the nose, it felt like a musical. The song clicked when I thought about it through the story of my grandmother; how we hadn't seen each other in years, and how in the last moments we had together, there was seemingly a buffer between us, whether that be the time spent apart, her illness, or the drugs she was on due to her illness.
'Dust Storm Darlin" was a way for me to sort out my grief, and my guilt, and make it something beautiful.
OK, my last question about 'Dust Storm Darlin" I promise! I know that the opening chorus line, "I'll be seeing you in the morning", directly references a Billie Holiday track. Please tell us more!
I included this line as a reference to the folks at NASA. After Opportunity sent the correspondence "My battery's low and it's getting dark", those deeply sentimental scientists responded by sending an audio recording of the Billie Holliday song, partially to see if it would reach a still-functioning Opportunity, and partially to say goodbye to an old friend.
Oddly enough, the story of my grandmother and I ends in a similar way: As I was saying goodbye to her before I left for the airport, I reflexively said "see you later". I felt awful about it, and then my grandmother groggily looked at me and said "I wanna see you in Paris. I'm not goin' just yet". I was so taken aback by this, and even now I have no clue what it meant.
'Cut to the Feeling' is a Carly Rae Jepsen song that you covered and released in 2017, and it currently has over 1,000,000 plays on Spotify! I imagine that's a dream for many artists. How does it make you feel to know that so many people have been listening to and appreciating your music?
What a crazy wild ride this song has taken me on!

elijah mann
I recorded 'Cut to the Feeling' in my closet, and released it without mastering the track, just because I felt like I had lost my way and needed to do "something" with my dwindling music career. 5 years later, at least tens of thousands of people have listened to it and made it a part of their lives. At first, I really felt strange about my most popular song being a cover of someone else's song. But its popularity has granted me the privilege of a following, and a sturdy base to build upon with my own music. I'm eternally grateful to everyone who's listened, and a huge shoutout to Reagan from IfThenCreate who featured the song on IMissMyCafe.com. 
Everyone's lockdown experience was certainly different and unique, but how did the world completely shutting down affect you both artistically and mentally?
I wish I could say those months were a breeding ground for creativity, but if I'm being honest, I went into lockdown during a songwriting dry spell and I came out of lockdown STILL in that dry spell. My most productive time was a few months later, when I wrote 5 songs in a month. My main goal in the lockdown/pandemic has been to improve my guitar-playing and get to a point where I can play lead for my friends. I've improved, but I'm not there yet. Soon! (Also if any friends are reading this: call me!)
Who are some of your biggest musical influences? And who did you grow up listening to?
Growing up, my biggest influence, and the reason I started making music, was Jason Mraz.

elijah mann
He was the first musician who showed me that a song doesn't have to be "tough" to be good. 'A Beautiful Mess' is still one of my favourite songs. Recently, for the past 7 years or so, my biggest inspiration has been Anaïs Mitchell. Her songwriting has shaped mine in ways I don't even always realize. Her ability to be tender and honest, but still be a badass, is what I strive to achieve.
We at Indie Top 39 always love finding out about artists' creative processes, and how they take an idea and transform it into a song. Could you tell us a bit about your creative process?
I don't think I have a set creative process. I wish my songwriting was a bit more structured, but right now I write whenever inspiration hits.
If you could "steal" one song in the world and claim it as your own, what would it be?
This answer will change with every new release day, but right now it's between 'Bright Star' by Anaïs Mitchell and 'Take It With Me' by Tom Waits.
OK, Elijah – desert island time! You're allowed to grab 3 albums before being stranded on a desert island. Which do you choose and why?
22, A Million – Bon Iver – There's simply so much going on with this album I don't think I'll ever stop finding new things to love about it.
Narrow Stairs – Death Cab For Cutie – For the angsty nostalgia factor, and for that rock n roll kick.
Blue – Joni Mitchell – Because we all need to remember how to be radically vulnerable.
What would success look like for you in the music industry? And do you place any importance on it when you're busy creating new music?
We all have those "playing Red Rocks", "getting signed to your dream label", and "winning a Grammy" dreams. I'm no exception. I'd love to get signed to Anti or Nonesuch or Dead Oceans and sell our Red Rocks or The Beacon Theatre and spend my life touring and recording. I'm actively chasing that dream. But none of that can be in the room with me when I'm writing. The second you invite capitalism to co-write with you, you're doomed.
You just need to write what you're feeling. Everything else comes later.

elijah mann
Einstein famously said, "If I were not a physicist, I would probably be a musician." If you were not a musician, what would you be?
If I were not a musician I would probably be a very sad barista.
You're allowed to collaborate with one musician or band. Who do you choose?
I've shouted out Anaïs Mitchell too much in this interview so I'm going to say, Glen Hansard.
Thank you so much for chatting with us today Elijah! Not to get too dark or anything, but what would you ultimately like to be remembered for?
As a helpful, loving friend, who wrote some damn good songs.
Make sure to connect with Elijah Mann on Instagram » Facebook
---
We added Elijah Mann's single 'Dust Storm Darlin" to the playlist of all the artists we interviewed so far.
Don't be shy to give it a listen!