London-based singer/songwriter and multi-instrumentalist, Alex Spinney, released' Boodiyayay' at the beginning of this year, and we at Indie Top 39 labelled it as "one of the freshest and most original tracks we've heard this year". The ridiculously talented artist has recently returned with another incredible new tune called 'Painting Houses', and we were delighted when he agreed to an interview. Chatting to us about his love for songwriting and his even bigger love for Griff, please give a big welcome to Alex Spinney.
Hello Alex! It's great to catch up with you again – and we're so excited to reintroduce you to our ever-growing audience. Let's get the ball rolling with an easy one. I read that you begged your folks for piano lessons when you were just four years old. Can you tell us a bit about some of the events that have led you to where you are today musically?
Well, I guess I've taken a bit of a meandering journey to where I am now, so I'll give you the short version!
I've been playing piano and singing since the age of about 4, and then writing music since the age of about 14 or 15. However, if I'm honest, when I was younger I really didn't think that the world of commercial music was the right place for me. Growing up, most of the music I was involved in was either classical music or musical theatre, so it almost felt more acceptable to go down those avenues. As an adult, I spent a number of years exploring that professionally, but always felt like there was another way I wanted to be expressing myself.
A few years ago, I had a big injury that took me out of the performing world for quite a while. During that time, I began to write properly, and it just felt so much more authentic to me, both as a singer and as an individual. So about three years ago, I decided to fully commit to it, and properly invest in and work on my own music. Since then, I've been fully dedicated to writing and recording, and started releasing music in October last year!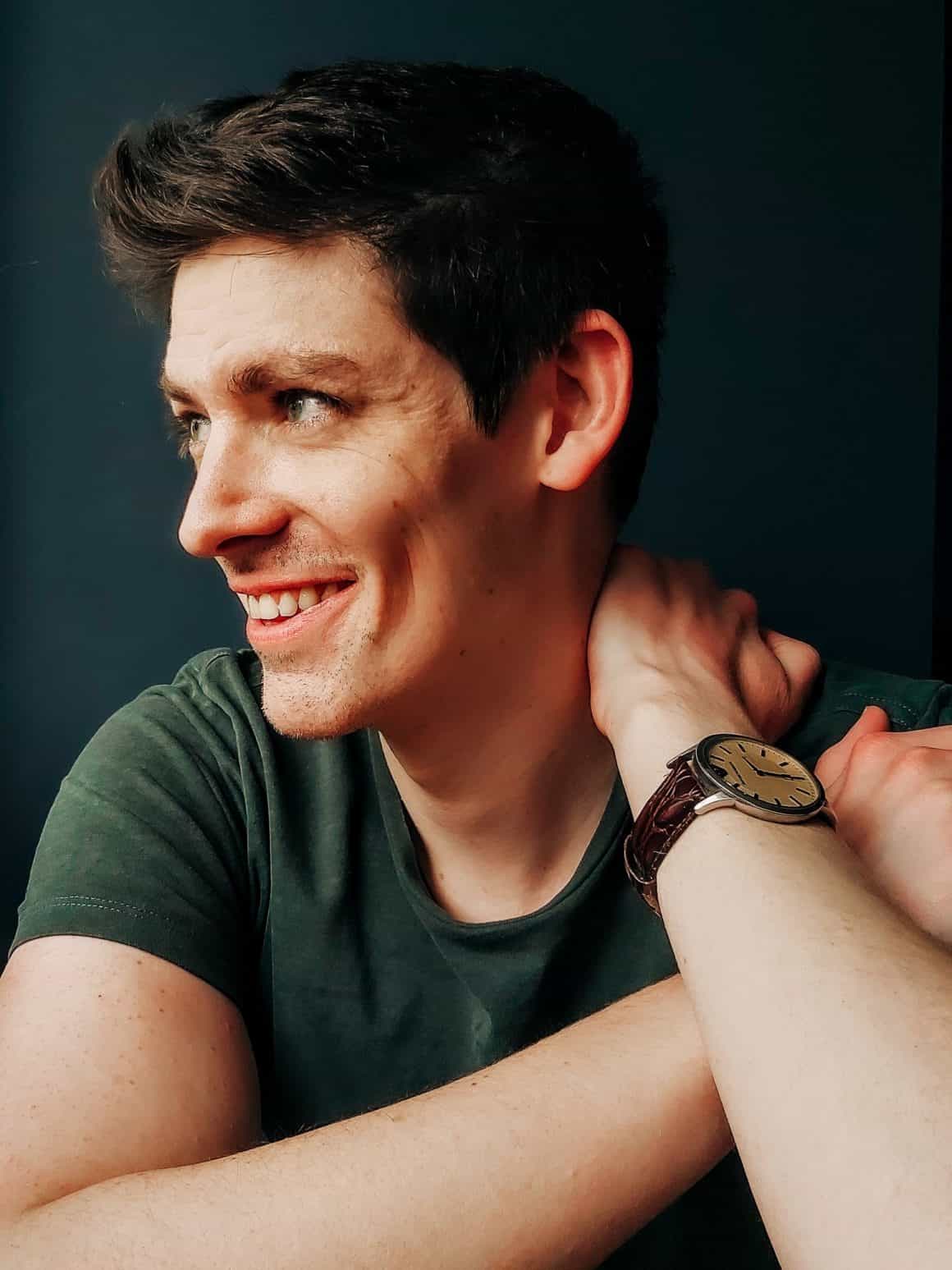 So, as I've mentioned to you previously, I've fallen exceedingly hard for your most recent two singles – but we'll get to those in a bit. 'I Remember' was indeed your first official release, and I was wondering if you could tell us what made you choose that song to introduce yourself to the world?
Haha well thank you, that's very kind! So, 'I Remember' was one of the first full songs that I had written, and to me, it felt like the easiest and most natural way to introduce my own solo work. Would I write a song like that now? Perhaps not, but it allowed me to showcase my voice and style in the way that I wanted to, and I also thought it would appeal to a wide audience. From there, I could then really start to explore and experiment with different sounds and styles.
Moving on to 'Boodiyayay', which was my introduction to your music. It's a song that, truly, I still listen to on a near-daily basis, and I remember you saying that you wanted to showcase another side of your artistic self with it. Do you feel like you were successful, and how important is "mixing things up" to you?
Ah well, that's lovely to hear, and pretty much all you want when you put music out there! Yeh, I mean, I think I was successful to a degree?! I sometimes wish I had promoted it more or released it later down the line when I had more of a following. However, I'm keen to write some more tracks that are of a similar sound world, so maybe I'll do it that way instead.
For me, mixing things up is really important – I guess some people would say it's important to be really consistent in your genre, but I'm still exploring all of that, and I think as long as I'm singing in my style and there's some piano, then I hope that'll be enough continuity for people.
I also still think everything I put out will be in that pop world anyway, just with different influences within that.

alex spinney
Just staying with 'Boodiyayay' quickly, the track is rapidly nearing 30,000 plays on Spotify! How does it make you feel to know that so many people have been listening to and appreciating your music?
It's great, and it's pretty cool to see all the different places people are streaming it. One of my new favourite things to do is to check out the playlists that people make featuring one of my tracks (still a novelty for me so I am all over it). The best playlist was one that featured Boodiyayay, and it was simply titled 'not bad', which is high praise indeed haha.
You recently released your brand new single 'Painting Houses', and it was after listening to it a couple of times that I thought to myself "I really want to interview Alex!" I'm so glad you obliged. I know the basic premise of the song, but could you tell us what 'Painting Houses' means to you?
Ah, not at all, very honoured to be asked! To me, it captures that unique feeling you get when you hear that your ex has settled down with a new partner, and is now 'painting houses'. Even though you've technically moved on, you'd rather not have heard about it, and it makes you think about that relationship, and question whether it was the right move to leave it.
Who would you put down as some of your biggest musical influences? Who did you grow up listening to? And would you say that your tastes have changed or evolved over the years?
So I know everyone says this, but I really did listen to loads of different stuff growing up. I loved British bands, so I listened to a lot of Oasis, Blur, Travis, Stereophonics and Muse. Then I discovered pure pop and got really into the (early) Sugababes, Beyonce, Lady Gaga, and more chart artists. Then added to that was a mixture of various other things, from Aretha Franklin and Michael Jackson to Greenday, No Doubt and Fleetwood Mac, and even some country artists like Alison Krauss, who I still really love.
In terms of influences, certain piano-based artists like Elton John and Billy Joel really influenced me, and I've also been drawn to pop artists who deal in epic choruses and theatricality, such as Sia, Pink and Lady Gaga. Finally, from a singing perspective, I love artists that vocally own their own styles, such as Sam Smith, Griff, Tori Kelly and Alison Krauss.
I think I now listen to more pop music, just because it's what I'm creating and want to be a part of. I love Griff, who won the Brit Award for Rising Star last year. I think she makes pop music that is so engaging, really current and yet still so emotive. I'm also loving HAIM, Lil Nas X, Holly Humberstone, Miley Cyrus, Lauv, James Arthur and Sam Fender, and then even more folk and country artists like Kacey Musgraves.
What do you love most about being a musician? And on the flip side, what are some of the biggest challenges that you've faced so far?
Hmm, that's a tricky question. I love that I get to create – writing a song is genuinely just really enjoyable. Then the other is the people that I get to work with – for example, my producer and I just have a great time together, whilst also working on music that we're both (I hope) pretty excited about!
The biggest challenges, they'd have to all be about social media! I didn't even have Instagram until 2 years ago, so now here I am trying to film creative videos for TikTok.

alex spinney
It's such a useful way to gain traction, but it really requires a lot of time and energy in order to execute it well. I had never edited a video in my life until about a month ago, but here I am, editing videos and looking for social media opportunities in everyday life. There's an element of that which is a bit sad haha, and it's hard when it's just you driving it and you need to ask friends for help. In an ideal world I would have a social media guru helping me, so if there's a tech-savvy music lover out there please get in touch!
Is there a show or concert that you attended (or perhaps even played at) that just stands out from all of the rest? If so, please do tell.
I saw Beyonce's I am Sasha Fierce tour when it came to the 02 back in 2009, and that was pretty legendary. It was just her ability to dominate that stage, vocally, physically and artistically that captured the crowd. We all just came away a bit mesmerised really. I wish I had a more niche answer for you, but there you go!
What is the best piece of musical advice that you've ever been given that you'd like to pass on to others?
Another tricky one! I guess it wouldn't be musical advice itself, but more something that I've learnt over the years? Just to add – I don't really think I'm in any position to give out advice, but I don't write the questions! I think it would be to trust your own musical judgement and try to be as authentic as possible?
Growing up, I think I thought that my musical styles and passions were either not sophisticated/classical enough, or not masculine enough, but now I really don't care about any of that, and almost take pride in it.

alex spinney
If you were allowed to "steal" one song in the world and claim it as your own, what would it be and why?
Geri Halliwell – Look at Me. Haha no probably not, but that is still a banger! My cousin just agreed.
Ok so this might not be that well known, but 'Don't Lose Sight' by Lawrence, this brother/sister soul-pop group from New York, is such an anthem. It's about the music industry and is so catchy, but also has real swag and is complex and sophisticated – just a masterpiece of modern pop for me.
OK, Alex – desert island time! You're allowed to grab 3 albums before you're stranded on a desert island. Which do you choose?
Ok, so – Fleetwood Mac's Rumours – obviously. I genuinely think that album works for almost every occasion. Try it, let me know.
The next one would be Blur: The Best Of – I just have great memories of listening to that album when I was younger. One time we had a long car journey, and my brother and I were in the back of the car and the album was playing, and our critical analysis mainly consisted of saying that 'each song is great!'. Also for me, 'Country House' is the best example of a pop song double-overlapping chorus out there – it's a mini-goal of mine to write a song with that feature (the two main choruses/themes overlap at the end), and that song does it best.
The last one would be a recent one and a mini-album at that. Griff released One Foot In Front of the Other last year, and I pretty much played each song on loop for about a month. All my friends got a bit bored of me hyping on this new artist they hadn't really heard of, but she's definitely getting way more exposure now. Each song is epic, and for me, it shows how modern pop should be done. Exciting, chorus-led tracks, that have innovative production and percussion, but still manage to keep the vocals sounding real and intimate, and so keep the emotive element that you want from a singer/songwriter. That was a wanky sentence, please don't judge me, I just really love Griff.
When you're not creating music, what fills your days? What does a non-music day look like in the life of Alex Spinney?
Well, in my other job I actually teach maths, which I genuinely find really enjoyable, as it's pretty different to the whole music thing. In my spare time I play tennis, go to the gym and generally watch quite a lot of films/TV – highbrow and lowbrow, probably more of the latter.
I know that you're hard at work on your debut EP. Do you have any type of official date in mind for the release? And I guess on a broader scale, what do you hope for when it comes to your long-term musical future?
Well, I'm not sure if I'll release it as an EP, or I'll just continue releasing singles really.
I feel like you can do whatever you want release-wise these days, especially as an independent artist, and that's quite nice.

alex spinney
I think after about 7 singles or so I'll move to making albums though.
Overall, I'm pretty aspirational really – I'd love to keep writing and releasing music, record some actual albums, explore different genres, and just continue to grow a fanbase. I'd also like to write for other artists at some point, as I think that would be a really interesting aspect of the industry to be working in.
Make sure to connect with Alex Spinney on Instagram » Facebook
We added Alex Spinney's single 'Painting Houses' to the playlist of all the artists we interviewed so far.
Don't be shy to give it a listen!