A Lone Acacia hails from the UK. Birmingham to be more precise. He's an independent musician, producer, and songwriter, and his debut single 'Hemispheres' has completely blown all of us at Indie Top 39 away! Blending elements of live instrumentation with electronic, A Lone Acacia has concocted a sound that is simply too intriguing and captivating to ignore! Chatting to us more about his debut release and his plans for the future, please give a big welcome to A Lone Acacia.
Hello and welcome A Lone Acacia! We're so excited to introduce you to our ever-growing audience. Let's get the ball rolling with an easy one. When did your music career begin and what has led you to where you are today musically?
There never really was a definitive beginning per se. I first picked up the guitar when I was thirteen and pretty much immediately started writing my own music from that point onwards. Initially, the intention was to form a band, but I could never seem to find the right people, and that remained the case for a long time. Eventually, I just drew a line under that period and embraced the notion of doing it alone. Looking back, I think a part of me always knew that I was destined to become a solo artist, so it was actually quite liberating for me once I accepted it. I no longer felt hostage to that dream of being in a rock band and instead, I could just be the most uninhibited version of myself.
A debut release is obviously always very special for an artist, so firstly, congratulations! I have to say…I really love 'Hemispheres'! It just puts me in a very peaceful and tranquil place. What made you choose it as the very first song to introduce yourself to the world?
Thanks so much, it feels like the beginning of a new era for me. When I wrote the track, it was exactly a year after I had committed to pursuing music on my own and I found myself at a crossroads in life. I was certain that I wanted to make an instrumental album but for a long time I had just been feeling disconnected from everything, so naturally, a lot of the music I wrote began reflecting that.
When I wrote 'Hemispheres', it more reflected how I wanted to feel rather than how I actually felt.

a lone acacia
Whereas I felt detached from my surroundings, the track embodied a sense of moving forward and connecting with something new. As you mentioned, it has this peaceful vibe to it and that felt like a weight being lifted at the time, so I knew that I wanted to release it as a single pretty much as soon as I wrote it. It seemed distinct from anything else I'd ever written up until that point and so, for me, it epitomised the essence of turning over a new leaf.
We love finding out about the inspiration behind a track, and even more so when it's an instrumental. Do you remember the song's "birth" so to speak and how it came to you?
I actually remember the seeds of all of my tracks quite vividly. All of them are born out of moments when I'm just noodling around on an instrument. Normally, I conceive of songs on the guitar, but on this particular occasion, I was experimenting with using an echo effect on a piano, and that's when I conjured up the main melody for 'Hemispheres'. I immediately latched onto it as it possessed this really airy and ethereal quality, but every time I tried to add more complexity to it, I always ended up gravitating back towards those same few notes.
There was something hypnotic about repeating them which seemed to get lost when that simplicity was abandoned. So, I sketched out an arrangement of the track based on that concept and roughly added some other layers into the mix. A day or so later, I ended up coming back and adding the intro section with the ocean sounds over it and that's essentially how the track would remain from a compositional perspective.
From a production standpoint, it was a bit less linear, because that original recording was captured in a pretty haphazard way and therefore didn't sonically translate that well. Around half a year after first writing it, I made an entirely new demo of the track and, as fate would have it, that's the take that became the foundation for the single. 
I know that you wrote, recorded, produced, mixed, and mastered 'Hemispheres'. Oh and did the artwork too! You truly are an independent musician in every way. Can it be overwhelming sometimes? Would you have it any other way?
From an artistic perspective, I sometimes wonder whether it would strangely be more overwhelming to not do everything myself. Eventually, I reached a point where I had such a defined vision of what I wanted from my music and so I figured that nobody would understand that vision more clearly than I.
As I learnt more about recording, it soon dawned on me that the engineering aspects of music, like producing and mixing etc, could be treated like any other instrument.

a lone acacia
You can exploit certain techniques to heighten emotions and paint more vivid pictures so to speak, so I wanted to harness those tools at my disposal rather than delegate them to someone else. I'm also not particularly comfortable with verbally articulating my thoughts at times, so it seemed more logical to take control of those elements myself than to try and convey my ideas to another person. It's for a similar reason that I ended up doing the artwork myself, although it's still early days with regards to incorporating visual components into my work.
It's inevitable that I'll have to work alongside others at some point in that respect, especially when it comes to cinematography, but for now, it's just me. Even though single-handedly doing everything can sometimes be quite fatiguing, I've found having different mediums of expression to be equally therapeutic. When I find myself feeling burnt out or uninspired by one side of things, it often fuels inspiration for the other. 
I'm a sucker for having to find out the origins of a band's name, or an artist's moniker. How did A Lone Acacia come about?
Music has always been a solitary thing for me. Whenever I'm alone, I feel like I connect with a different part of me and see things from a different perspective. Ultimately, that's the place where my music comes from. In light of that, I felt as if coming up with my own name was a way to further carve out an identity for that side of myself.
A few years ago, I wrote a song and its initial working title was 'Acacia'. There was something about that word that I was drawn to, but the title didn't fit the track, so I tried variations of it and that's when I arrived at A Lone Acacia. The second I thought of it, I knew that it was more than just merely a song name. The imagery evoked by that phrase struck a chord with me because it perfectly encapsulated how I think and feel when I'm in that introspective state. It portrays a sense of isolation, but also a sense of survival and optimism and so it was like holding up a mirror to how I view myself and my music.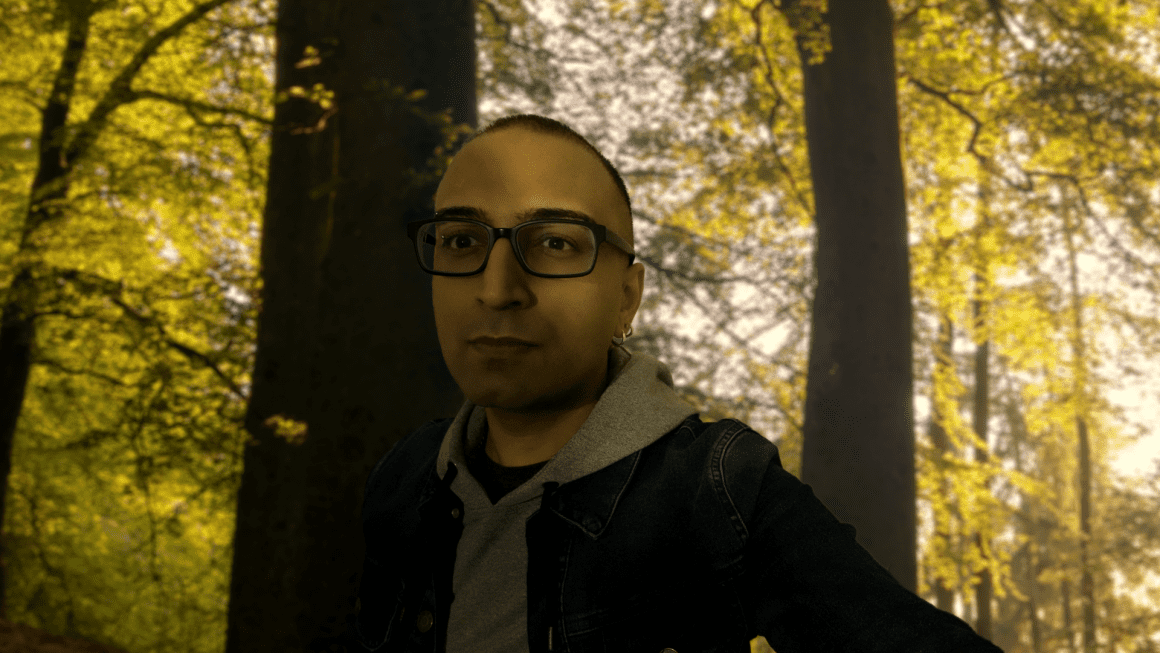 I love the eclectic and diverse range of your musical influences. From Boards of Canada, Moby, and Tycho to Miles Davis, Sigur Rós, and Jimi Hendrix. Is there anybody else though that you would credit for helping shape your general soundscape? Who did you grow up listening to?
There are so many different artists that have inspired me in one way or another, and my sound partially emerges from the convergence of all of them. I grew up listening to a lot of rock music, and finding bands like Nirvana was kind of what got me into music in the first place. That then spiralled off into all kinds of heavier guitar music, but the next seismic shift was probably when I stumbled upon progressive artists like The Mars Volta, Led Zeppelin, and Pink Floyd as they exposed me to the more experimental sides of songwriting.
Eventually, I discovered Aphex Twin, and that was a really important moment because his music opened me up to a whole other kind of sound palette that then led me down the ambient rabbit hole.

a lone acacia
Yet, at the same time, I was just as enamoured by the gritty instrumental beats associated with older hip-hop music, hence albums from the so-called golden era like Nas' Illmatic and Wu-Tang Clan's 36 Chambers had a lasting effect on me upon first listen.
That said, I can't overlook Howard Shore's soundtrack for The Lord of the Rings which quite possibly seeped into my younger psyche and might explain the more cinematic undertones of my own music. Then there are even the non-musical influences like David Attenborough because his nature documentaries form some of my earliest memories of being inspired by imagery and I cannot overstate the extent to which visuals have come to guide my own tracks.
Realistically, I've absorbed a vast amount of music over the years, and it's all had an impact in some way, shape or form. Even the music that I don't like has some inherent significance because sometimes, knowing what not to do, can be just as important as knowing what you do want to do when it comes to shaping the end result.
With everyone's lockdown/pandemic experience being very different, what sort of effects did the world shutting down have on you? Musically, mentally, physically?
In the period leading up to it all, I had more or less locked myself away and kept my head down with the sole intention of working on music, so it didn't change things all too much for me in that respect. In some ways, it actually gave me the time to take a step back and recalibrate. For a while, the endless number of ways in which I could approach the early stages of releasing music had kind of prevented me from ever fully committing to one trajectory.
There was a certain clarity that arose from the fact that the pandemic inadvertently narrowed down the viable avenues to just a few. It's strange because the bulk of my music was written long before the pandemic was even a thing, yet almost all of my songs are deeply rooted in themes of escapism. Albeit for different reasons, it's a pure coincidence that the current state of the world has left nearly everyone else feeling the same way. 
Some of my all-time favourite acts – Black Sabbath, Electric Light Orchestra, The Streets, Editors, and many others – all come from your neck of the woods in the UK (Birmingham). But are there any hidden gems in Birmingham that our readers should know about or that you'd like to shout out?
The first artist that immediately stands out for me is Bibio. I didn't come across his music until only a few years ago, but he's easily up there as one of my favourite artists to come from the Midlands. The other musician who comes to mind is Actress, whose music is slightly left-field and equally beautiful. They're both well-established artists but they still deserve more recognition and all the accolades, so your readers should definitely check them out if they haven't already.
Einstein famously said, "If I were not a physicist, I would probably be a musician." If you were not a musician, what would you be?
Hand on heart, I've never really thought about it. The only thing I've ever truly connected with is music. Nothing else has ever interested me.
Is there a show or concert that you've attended that just stood out from all of the rest? If so, please do tell.
It's been an aeon since I went to a concert, unfortunately! Although I am about to see Earl Sweatshirt live, so I can preemptively say that that show will stand out because it'll be the first gig I'll have been to in forever.
Desert island time! You're allowed to grab 3 albums before being stranded on an island. Let's hear it!
Honestly, I reckon I'd pretty much be in my element if I were just left on an island by myself listening to some of my favourite records. With that said, the first one would be Music Has The Right To Children by Boards of Canada. That album was pivotal for me and it's one of those where I sometimes wish I'd heard it sooner. If push came to shove, I'd say that if I could only listen to one artist for the rest of my life it'd probably be them.
I'd definitely take Play by Moby with me too as that's another one of my favourite albums of all time. That was kind of the record that introduced me to electronic music in a way that resonated with me and to this day I still adore listening to it.
The last one would without a shadow of a doubt be a rock 'n' roll album, but there are so many that have shaped who I am. In the end, I'd probably reach for Are You Experienced? by The Jimi Hendrix Experience. There's so much beauty in the chaos of that album, you'd be forgiven for not realising that Mitch Mitchell is laying down some of the finest drum recordings ever.
From his sound to his fashion to his live performances, listening to Hendrix never ceases to remind me of everything I love about music.

a lone acacia
You've been given the chance to collaborate with any musician or band. Who do you choose and why?
I've never worked with another artist before so it would have to be someone who inspired me to come up with ideas that couldn't have existed without them in the picture. Up until now, I've primarily focussed on instrumental music, so it would likely be a singer of some sort as that would add an entirely new ingredient altogether. The first person that springs to the forefront is Björk. I've always admired her artistry. Her voice has such an emotive and distinctive character about it that I imagine it would inevitably spawn something new in me. 
I have no doubt that there are many more songs up your sleeve, and I truly can't wait to hear what else you have in store! But in a broader sense, what do you hope for in your musical future?
As it stands, I have some pretty ambitious aspirations for the future, but I don't want to divulge much yet. In essence, my vision extends beyond simply releasing songs. I want to construct a whole aesthetic around my music and let people get lost inside of it. I'm hoping to enhance the experience through visual mediums and, whilst I'm still in the process of exploring different ways to make that materialise, I want it to grow to encompass everything I do.
Of course, there are also the more conventional milestones, like producing my debut album and playing live, but ultimately, I've got my long-term sights set on eroding the separation between music and other forms of art. 
Make sure to connect with A Lone Acacia on Instagram » Twitter
---
We added A Lone Acacia's single 'Hemispheres' to the playlist of all the artists we interviewed so far.
Don't be shy to give it a listen!