ICEBERG is the moniker of New York-based singer/songwriter, multi-instrumentalist, producer, and engineer Charlotte Berg. Two months ago, she unleashed her single 'Swim' on the world, and we at Indie Top 39 haven't been the same since! We called it an "immersive, hypnotic, and powerful journey…more than just a song". And we firmly stand by that statement! Then she dropped 'Can't Forgive Me', and we knew that we had discovered an extremely special artist. Talking with us about the response to 'Swim', what it's like to produce, and her company Glassnote Productions, please welcome…ICEBERG.
Hello and welcome Charlotte! We're really excited to re-introduce you to our ever-growing audience today! I read that you began piano lessons when you were just 8 years old. Is that when your love affair with music began?
Hi guys. Thanks for having me. Yes, I started classical lessons at eight but I'd been singing a lot earlier. My mom always says I had singing Tourette's syndrome, not very P.C., from about three. We did a lot of driving on the weekends growing up and we listened to Annie and Abba amongst other things in the car.
So, as you know, I first discovered your music when I heard your single 'Swim', and I was instantly immersed in its hypnotic and powerful soundscape! In just two months, the song already has over 73,000 plays on Spotify. How does that make you feel?
The response to the music has been amazing. I got a grant last August to do the project after having released two albums independently while in Nashville, touring for four years, and then working as a producer/writer in London for the last four years. So it feels like a long time coming and I'm grateful.
I feel like, now that I'm a producer, I've finally been able to nail the sound that's been in my head for eight years. So having a great response to that sound is wonderful.

iceberg
When we last spoke, you said that 'Swim' was " the sound that's been in my head since I started doing music professionally". I know that you have extensive work experience as a producer, so could you describe the feeling of a song finally coming together exactly how you had imagined it?
More and more artists are self-producing nowadays and I think it's a really good thing. You can describe what you want to someone but they'll never be able to get as close as you can. I don't fully imagine a song before I produce it, but it comes out best when I get into this uninterrupted flow and sort of zone out.I produced 'Swim' after a week away with my friend and colleague Julian Blanco. We'd been wanting to do a project together but were both so busy, so we decided to rent an Airbnb by the sea about two hours outside of London for a week to remove distraction, and we wrote and wrote for a whole week.
It was a really inspiring week for both of us because we'd been working exclusively on clients' music for years. I came back and produced the majority of 'Swim' in about four hours the next morning. But generally when I produce something, now that I have the technical skills, I create like I would play an instrument. I let the feelings take over. I like to keep things minimal, leaving only the sounds that really move me. When I'm able to do this well it's an amazing feeling.
Just a few days ago, you released your brand new single called 'Can't Forgive Me', and I have to say…You've done it again! Intimate yet bold, melancholic yet filled with warmth. Just superb! Could you tell us what the song means to you?
'Can't Forgive Me' is about meeting someone with whom you have undeniable chemistry, but not saying anything because they're not available. In this case, I worked with the person and had to keep seeing them at the office for two years while I felt this way which was pretty excruciating.
We meet a lot of people in a lifetime but very few change us. I think the ones that do are impossible to fully let go of. And maybe that's ok.

iceberg
You recently moved to a cabin in the Adirondack Mountains in northeastern Upstate New York. You simply have to tell us more! It sounds like something many artists would dream of.
Haha, it's been great. London is amazing but it's intense. I was working close to 80 hours a week for four years in studios and for my own production company and it wasn't sustainable. I've been going to the Adirondacks every summer since I was born and it's the most important place in the world to me. It's so quiet and wild and untouched. There are so few people there so you can clearly hear your own thoughts which is great for songwriting.
My partner and I wanted to open a studio and we wanted a change of pace, so we decided to move to this little log cabin in Essex on Lake Champlain. We both love sports and the move has allowed us to work less and cycle, run and hike a lot more. The studio will be up and running by October and then I'll be able to write and produce surrounded by trees and mountains and then go for a swim afterwards. It does sort of feel like a dream.
Can you tell us more about Glassnote Productions?
Yes, by 2020 I'd worked as a freelance producer/writer for several studios for a few years. I wanted more control over my time and schedule and also more creative control over my work, so I opened Glassnote Productions. Though the company worked with artists of different styles/genres, the band I worked with most is called Westfoord. They're a mega-talented gay and trans band and I've been working with them for nearly two years now.
When I lived in and toured out of Nashville I struggled a lot with the sexism there. I eventually left because of this in 2017. Often being ignored in creative situations meant that my music was never a true representation of me as an artist. I realized that working with Westfoord was so fulfilling for me because I was able to help artists, who might otherwise be ignored in studios, fully realize their sound. This became the obvious motto of the company. I'm not afraid to say I don't like something but I'm really careful to never override an artist's vision.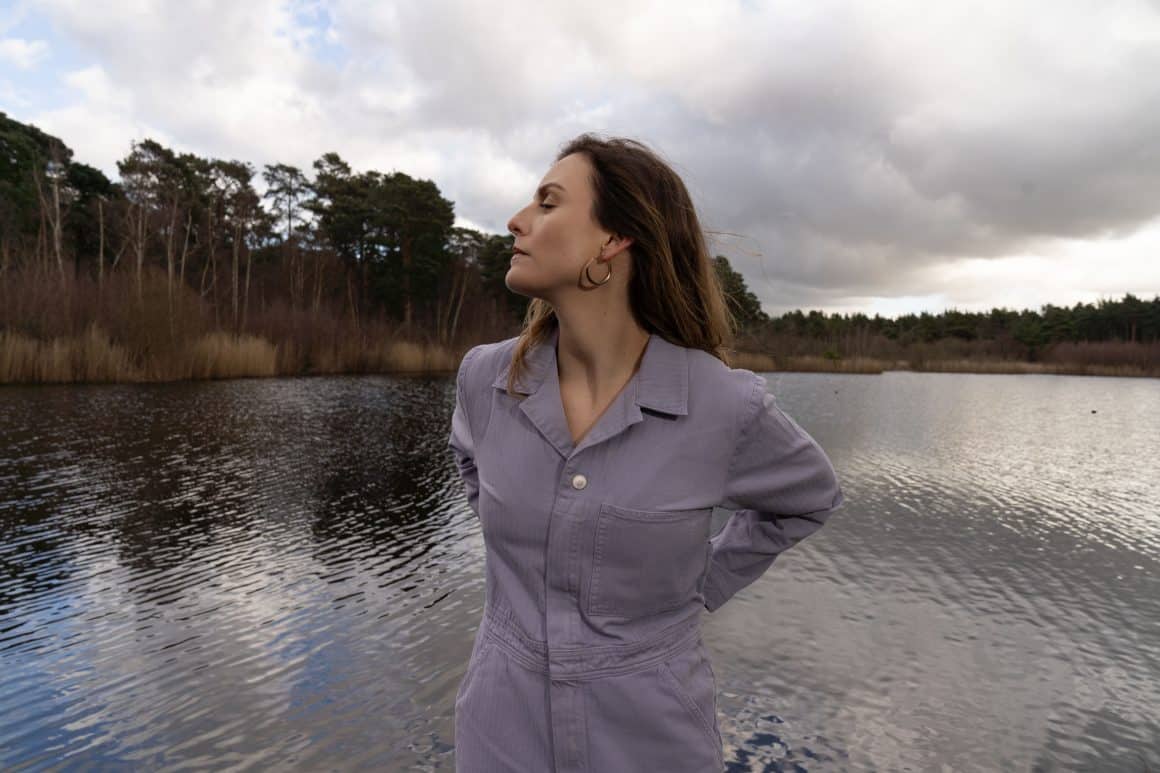 With every artist being different and unique, we're always intrigued with their creative processes, and how they take an idea and transform it into a song. Could you tell us a bit about your creative process?
There is no consistency in how I write except that it always starts with a strong feeling.

iceberg
Sometimes I start by writing a poem and then put it to a melody, and other times I play piano or guitar while singing and essentially write both melody and lyrics at the same time. I keep a list of powerful phrases and words on my phone from books or conversations so that when I feel like writing I can pull from it.
If I stole your cell phone and opened Spotify (or your streaming service of choice), who would I see under your recently played section?
Hahaha, I just checked and I can see Black Pumas, Phoebe Bridgers, Lake Street Dive, Khruangabin, and Big Thief. Fun fact, Big Thief recorded their album Masterpiece in a house in Essex, the tiny town I'm now living in.
OK, Charlotte – desert island time! You're allowed to grab 3 albums before being stranded on an island. Which do you choose?
I'm less of an album person now. I listen to a handful of tracks by my favourite artists over and over, but probably Phoebe Bridger's Stranger in the Alps, Home by The Chicks because I've been obsessed with 'Top of the World' since I was 14, and Black Pumas self-titled album because it's so groovy and happy.
So I did a little digging and came across your cover of Bob Marley's 'Three Little Birds' on YouTube. It's such a beautiful rendition! What drew you to the song?
If I had to make a list of the parts of music that I love most – lyrics would be at the top of the list. 'Three Little Birds'' lyrics are simple but so powerful. I thought a stripped-back version with layered vocals and piano would be really beautiful.
Which of your lyrics would you like to see printed on a t-shirt?
Haha, what a cool question. Maybe "I'd trade all my family and my friends" or "I dreamt I jumped in, to the blue". Or maybe something from my next single 'Blood Bank' that's out in a few weeks. There's a line that says "I feel you in my veins. Like the sweetest damn refrain" which I think sums up "feeling in love" or "romantic addiction" well.
If you were allowed to collaborate with one musician or band, who would you choose and why?
That's such a hard question. I've always wanted to collaborate with Bon Iver. I've gone back to their music over and over again throughout my life and it always changes me. So I'd have to choose them, but I also want to collaborate with Phoebe Bridgers and Imogen Heap.
Thank you so much for chatting with us today Charlotte, it's been a real treat! I know that you're working on your debut EP – do you have a release date in mind? And, I guess in a broader sense, where do you see yourself musically in five years' time?
I'm releasing 1 single a month for the next five months and then the full EP comes out on January 13th when the last single 'Don't Give a Fuck' comes out. I'm excited to see people's reactions to the rest of the songs. Beyond that, I will tour again soon, hopefully starting at the end of this year, and I want to continue touring part of the year for a long time.
I've played over a thousand shows as an independent artist and I love playing live. But when I do it again I want to play with an incredible band and in larger venues with a light show that I design. I feel that the music on this EP warrants that and will be great live. Thanks for having me!
Make sure to connect with ICEBERG on Instagram » Facebook
---
We added ICEBERG's single 'Can't Forgive Me' to the playlist of all the artists we interviewed so far.
Don't be shy to give it a listen!