Stephen James Orr is a multi-instrumentalist and producer who hails from Canada. Not long ago, we at Indie Top 39 stumbled across his tune 'Losing Time', and instantly fell in love! He recently returned with yet another killer track in the form of 'Someone Real', and we knew that we had to find out more about this talented musician. Chatting to us about his early love for music, who some of his biggest influences are, and which albums he'd take with him before being stranded on an island, please give a big welcome to Stephen James Orr.
Hello and welcome Stephen! We're delighted to introduce you (yet again) to our audience today. Before we get into the nitty-gritty, could you tell us a little bit about your musical journey? What has led you to where you are now musically?
Hello, Jeremy and Indie Top 39! Thanks for having me. Music has always been a huge part of my life. When I was growing up my dad always had it on as the soundtrack to our daily lives and when I discovered the MuchMusic Countdown on TV I was hooked on discovering new artists.
Throughout the years my favourite genre has changed many times over so I get inspiration from a wide range of artists/bands. I also have loved going to concerts from a young age, (my first two were James Taylor and Aerosmith), so being on stage has always been a dream!
In terms of playing, I started out with drums, but that didn't stick so I switched to guitar. As my dad is a guitarist, he taught me how to read tabs and I was off learning Metallica immediately.
Getting a job at Steve's Music in Toronto really kickstarted my music journey though, as it led to me playing in my first band (DC Disaster) and brought me into the Toronto music scene.
Since then, I've played in Morning Thieves and After the Mountain, both promising indie rock bands that had star potential, and with a variety of amazing local singer/songwriters (Gisun, Audra Santa, Kaili Kinnon, Paula Sofia, Zaynab Wilson).
The singles that came out last year are the first time I've written/released music under my own name, and through the music community, I've developed great relationships with other artists to bring on the collaborations you hear!
So, as I've mentioned to you before, 'Losing Time' has lived on my On Repeat playlist for quite a while now. I still listen to it all of the time! It's just such a rich and soulful tune. Do you remember its "birth" so to speak?
That's so nice of you to say! I do remember its birth quite well as it was one of the first songs I wrote in 2020 when I finally set up my own home recording studio.
Before 2020, I'd always been a bit afraid of writing songs. Thinking I wasn't talented enough, I gave myself writing goals, and this one came out of playing around with 7th chords within a chosen key, and writing a song with the major to minor 4th chord motif.
The whole song came together pretty quickly as the framework for the different parts was there in the first session. I find that once I get the initial ideas down my mind has already come up with multiple complementary parts I want to try out so things fall into place very naturally!
Michelle chose this one out of a playlist of tunes to collaborate on and the final vocals aren't far from where she started. I had Maurie Kaufmann from Lights re-record the drums from my initial scratch track to give the song more dynamics as well.
As a musician, one of the hardest parts is deciding when a song is "complete".

stephen james orr
This one needed something else so the synth parts were the last to be added to fill out the sound.
Sticking with 'Losing Time', I know that Michelle Challice provided her smooth and ethereal vocals for the song. How did the two of you meet and how did she end up jumping on the track with you?
Michelle and I met through us both playing with Good Enough Live Karaoke, a live band karaoke experience from Toronto by Tim McCready. We both discovered we had complimentary writing styles and I started sharing full song ideas with her that I had been recording.
'Losing Time' was one that jumped out to her from the initial batch I shared and one of the first we collaborated on together. We've got a new project called Neon Pony that we are currently working on songs for. Think of a mix of Dead Weather and Fleetwood Mac for sound!
You've (quite literally) just released your brand new single called 'Someone Real'. I have to say… I'm loving it! It features Eunice Keitan on vocals, and I read that the two of you met at a virtual live music series called Harmony Lodge Sessions that you curated and hosted. Do tell us more!
Harmony Lodge Sessions was born out of the pandemic when all music venues in Canada were shut and everyone was looking for ways to connect. HLS was a weekly virtual live music series, featuring artists from around the world on an interactive platform called Bramble, where you could interact as avatars and hang out in groups for the show! It sounds strange but it was a blast, and we had mostly sold-out shows from January to July 2021 every week.
Euni came out to one of the shows and I loved her vibe/songs so she played a future showcase and we've been friends ever since. Side note for her showcase on HLS – she had fans tune in all the way from Asia and South America!
The accompanying music video for the track is also great! I love all of the cats! Can you tell us about some of the ideas behind the video? Also, and please forgive me if I'm wrong, I believe this is your first music video. How was the experience for you?
The lyrics for 'Someone Real' are about the concept of community and how challenging it can be to find genuine connections and friendships in a big city. "Everyone just living for themselves" is how it's described in the track.
The idea behind the video speaks to that, with two people living together but never actually interacting, until the end when they finally come together and find a genuine connection.. For the visuals, we were inspired by the new Turnstile video for 'Mystery' and loved the long camera shots that pan between rooms/scenes. We went with a colder colour scheme as well to tie the lyrics and visuals together.
This is my first official music video for this project! The experience was incredible as the Black Jade team truly made it feel like a collaborative effort, and were endlessly creative in bringing it to life. Plus it was fun seeing the cats really hone in on their acting chops!
Along with Harmony Lodge Sessions, you also host a live music showcase series called Rooftop Revue. We'd love to hear more about this!
Rooftop Revue is a live music series I host/curate on my patio in The Junction in Toronto. I'm lucky enough to have a huge outdoor rooftop patio in the city, and the equipment to host these shows.
The series started out featuring a live performance paired with a movie screening, but it has now transformed to having two featured artists. We've hosted about 40 artists so far and will be back this year for our third year!
There are only 25 seats so they are all intimate performances but we've had an array of emerging to bigger names/touring artists come to the patio. Some that have played are Elizabeth Wyld, Alexander Saint, Kaili Kinnon, Maya Killtron, Conor Gains, Kyla Charter and more!
Having now listened to all of your recent singles, I think it's fair to say that your overall soundscape is a beautiful melting pot of genre-blending ideas and sounds. Who are some of your biggest musical influences? And who did you grow up listening to?
Some of my biggest musical influences are artists/bands who constantly evolve their sound, or push genres past the typical releases.

stephen james orr
I would say Radiohead, D'Angelo, Spoon, Hiatus Kaiyote, Jamila Woods, Prince, Jon Batiste.
As the guitar is my primary instrument, some of my biggest guitar influences have been John Frusciante, Nels Cline, Isaiah Sharkey, Jimmy Page, Jeff Buckley, and Jonny Greenwood.
I grew up listening to a lot of classic rock as my dad always had records playing in the house. I remember some of the first records I was obsessed with were Little Richard – Greatest Hits, The Police – Ghost in the Machine, Stray Cats – Built for Speed, and all James Taylor and Tracy Chapman!
The music genre's I've loved the most have changed drastically over the years, but it's helped me bring in a lot of inspiration and influence to my own playing/music. The MuchMusic Countdown was a mainstay on TV for me, which means everything from The Backstreet Boys, Spice Girls, Big Wreck, Prodigy, and Puff Daddy was fair game! Fun fact, the first CD I ever asked for was Shania Twain – The Woman In Me.
Metal also played a huge role in my early teen years, with Metallica, Pantera, and Korn. This led into the emo/hardcore phase of Alexisonfire, Norma Jean, and My Chemical Romance. My 20's was all about dancey indie rock, with the likes of LCD Soundsystem, The Hives, Hot Chip, and Spoon.
Where am I now? All funk, R&B, soul, and Motown!
Is there a show or concert that you attended that just stands out from all of the rest? If so, please do tell 🙂
From a live music standpoint I went to see Radiohead on their In Rainbows tour in Montreal, and I went from only really knowing the singles to being a huge fan. The sounds, tones, and improvisation they created for their songs that night was everything about why I love creating music live.
From a show standpoint, Nine Inch Nails at ACC on their Hesitation Marks tour and Janelle Monae on the Dirty Computer tour were both epic in terms of production.
Honourable mentions would go to Anderson Paak, Erykah Badu, James Blake, Kimbra, Emily King, Unknown Mortal Orchestra, and Disclosure
OK, Stephen – desert island time! You're allowed to grab 3 albums before being stranded on an island. Which do you choose?
D'Angelo – Voodoo
I was very late to the game in listening to D'Angelo, but Voodoo has quickly become one of my favourite records, with those slinky basslines by Pino Palladino, Questlove's grooves, and all the vocal layers and harmonies.
Radiohead – In Rainbows
Every song on this album ties perfectly into the next. I love the interplay between all the instruments and it's one you gotta listen to all the way through.
Hiatus Kaiyote – Choose Your Weapon
There's just so much going on musically on this album. All the parts are incredible and every song has layers to discover! I found out about it after hearing a sample on Anderson Paak's album Malibu (another album that would be on my desert island disks).
We're always intrigued by different artists approaches to their creative process or processes. Can you tell us a bit about yours? How do turn a song idea into a finished product?
The secret that's really helped me turn ideas into songs is taking the time to develop an initial riff into a few different parts in that first idea session and to make sure I record them and properly title them so I remember what's what!
When I write I usually start out with a guitar riff, but the ideas flow out naturally from that initial riff, to further add melodic guitar lines, a funky bass line, or a drum groove! I love writing to drums instead of a metronome so I tend to use the Logic drummer when recording and then edit and re-record the drums once the other instruments are recorded.
Kyle Gamble (Caudal Lure Audio) has been my go-to for mixing and mastering and has had a hand in a lot of great new music coming out of Toronto right now.
So, I did a little digging and came across your cover of Gordon Lightfoot's 'Steel Rail Blues' with Arthur Lee on YouTube. It's a track I know well and I love what you guys did with it! What drew you to the song?
That was one Arthur Lee chose to cover! I hadn't heard it before he came to me with the idea and I'm a sucker for folky fingerpicked troubadour style songs! The lyrics were really resonating with him at the time so we put our own spin on it and voila!
Arthur and I used to play in an indie rock band called After the Mountain, and we've recently been doing some writing together so look out for a future track!
If you were allowed to collaborate with one musician or band, who would you choose and why?
I'd love to collaborate with Lianne La Havas. She's been one of my favourite singers/songwriters for a while and I very much vibe with her guitar playing and vocals. She also seems to have great energy when making music (and maybe if we collaborate she can bring in Jacob Collier since they're friends).
I'm eagerly awaiting the release of your debut full-length album. Do you have any type of official date in mind for a release? And more broadly, what do you hope for in your musical future?
There isn't currently a release date set in stone for it! I am waiting to hear back from a few grants that will help fund finishing the remaining songs and marketing for it. I'm hoping I can get it out this year to keep building on these releases!
I love making and playing music so I want to keep developing my songwriting and playing skills across a variety of instruments and to keep collaborating with artists I love. I've been taking some vocal lessons as well, so that is a short term goal! Get my own vocals on a few tracks.
Make sure to connect with Stephen James Orr on Instagram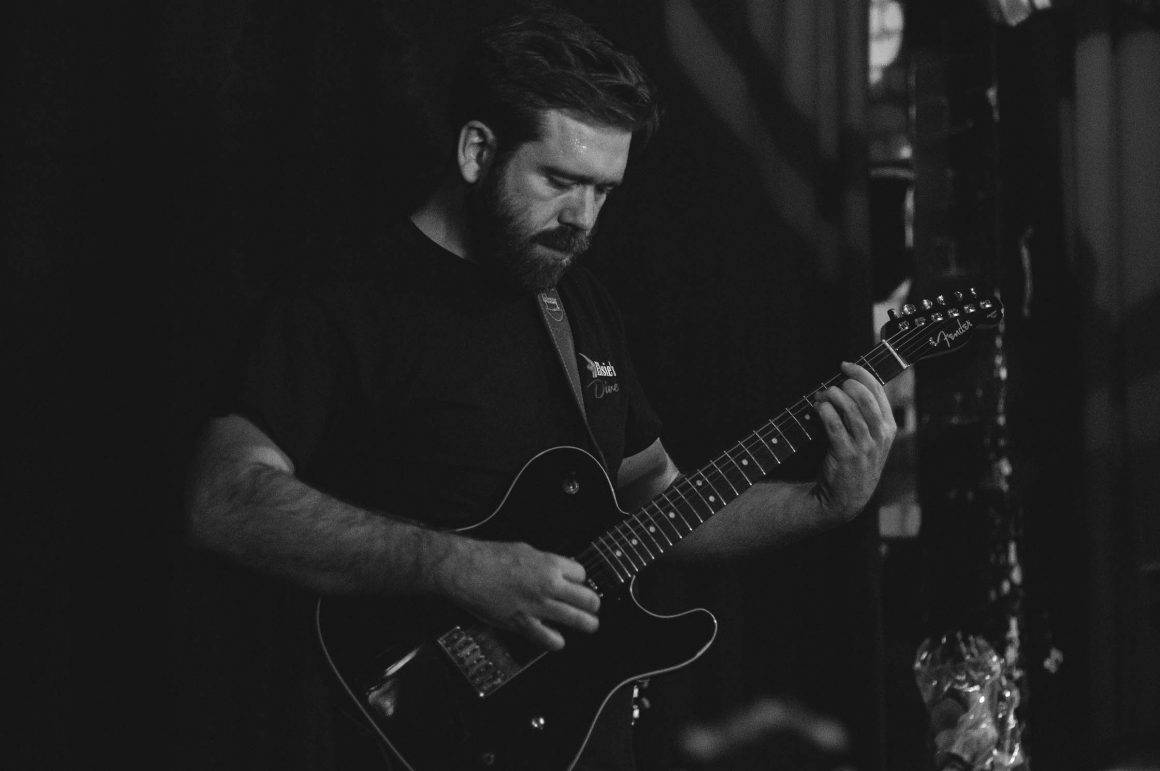 ---
We added Stephen James Orr to the playlist of all the artists we interviewed so far. Don't be shy to give it a listen!