Coming across the music of MUNGMUNG was like taking a deep dive into a hitherto undiscovered planet, filled with mesmerising, peculiar and compelling sounds, colours and shapes. Their latest single 'SWITCH' totally encapsulates the MUNGMUNG ethos, delivering quirky and intelligent songwriting, hooks galore, seriously excellent hip-hop fused production and wrapped up in a 'mario-bros' style visual party package. This artist is not doing anything by halves. Her style, her visuals and most importantly her sound are all extensions of her art, and who she is as an authentic, creative person. For those of you who have stumbled upon this interview by chance, you are in for such a treat! Go and immerse yourself in the world of MUNGMUNG!
I was HOOKED by your latest track 'Switch', can you tell me a bit about the song and how it began life?
Ahhhh! Thank you so much! That means absolutely everything to me! I am so happy we can all vibe out together on this one.
During the commute to Taka's studio, I was having a 'pondering and looking out the bus window' movie moment; Thinking about previous situationships I'd been in. . This line "Why you gotta flip the Switch, like Nintendo?" popped up in my head and just stuck. I brought the idea forward to Taka and we Super-Mario-flew into the pixel world, now known as 'SWITCH'.
Can you introduce yourself to our audience a little? (Where are you based, any party tricks?)
I am just your friendly neighbourhood music-obsessed potato. I mainly dabble in the sounds of Hip Hop, R&B/Soul topped off with dashes of Pop. I'm currently based in Sydney, Australia. I love all things art, fashion, design, pink, kawaii…We're all about the vibes and aesthetic forever!
I've always cared deeply about conveying myself visually.

mungmung
Have you always been so expressive and artistic in design, style and visuals or is this something that's developed over time?
I feel like all the elements of the arts go hand in hand. Fashion and film amplify music and vice versa. I've always cared deeply about conveying myself visually, whether it be co-ordinating outfits to match my mood or sketching a super experimental artwork.
You've already released 3 singles this year, what inspired you to put your original music out into the world in 2021? Has it been a long time coming?
I actually write heaps! My Voice Memos and Notes sections are so out of control! I started to take writing music more seriously (Finishing off full songs rather than just accumulating hundreds of melodic ideas in the form of phone voice recordings) when I was 13/14 years old. So one can only imagine the amount of back catalogue songs I have, haha! I am so happy to finally share a little piece of me and I can't wait to share more and more.
I think it's important to absorb inspiration from everywhere.

mungmung
Going by your YouTube channel, it looks like you might be a huge Sza fan. Is that someone who's inspired you?
I love SZA 15067%! She is one of several influences including Tyler, the Creator, Kendrick Lamar, Eminem, Notorious B.I.G., Kehlani, Nicki Minaj, Doja Cat, Kaiit and YEBBA. I also appreciate production/composition work of the likes of Danny Elfman, Christopher Young, M-Phazes, Monte Booker, Timbaland and of course, my faves, Tauese Tofa and Taka Perry. I'm open to and appreciate all genres of music. I think it's important to absorb inspiration from everywhere, especially from a learning point of view. For example, if I have extra time on my hands, I like to search up and listen to Hip Hop from across the globe.
Your lyrics have a very tongue-in-cheek edge and the production seems equally playful. What's the most important thing for you when creating a new song?
When it comes to creating music, the most important elements for me are to speak on what's real to me, whether it's making a statement on a personal or social issue or expressing a certain emotion I am feeling at the time, moreover, to just have fun with it and lean into the vibes. There is no point if there is no excitement or enjoyment coming from all this.
I am already living out a dream.

mungmung
If you could wave a magic wand, what would be your dream for MUNGMUNG in the coming years?
I'm just talking big and smack now but… It would be the ultimate dream to be performing across the globe. Maybe doing some fun festivals like Camp Flog Gnaw? Whatever happens, I am grateful and technically I am already living out a dream – Creating art, sharing it and banding together with other ridiculously talented musicians who I am lucky enough to call my peers, my dearest fam.
The vertical video for 'DMs' is so easy to get lost in. I have to ask, did you and your DM beau work out in the end?
Haha! It's a bit of a hectic video, but I wanted to throw in a bunch of TikTok references in there to tip the hat to how the song came to be; Taka and I linked up after I posted a duet freestyling to a TikTok beat he made, all the while, telling this 21st century digital pining love story.
The bae behind the song story and I did not work out but I wanted to highlight the idea of being bold, realising you're that bich and making the first move. That's a cute, baddie idea though, right?! It's supposed to be a Hype Girl to anyone wanting to go for it with their lil' crush. Charge head on! If they aren't right for you, okay, no big deal! Move on to the next thing and remember who you are!
It looks like you've been making YoutTube videos and creating music for a few years now. What's it been like making the next step as an independent artist?
I started posting covers to YouTube just for fun and I love to pay homage to my favourite artists. I still post to encompass the fun spirit of music and now that I'm sharing my own songs, I feel that the way I go about curating my content won't change. I'll still get crazy, goofy and nerd out to music.
Being able to share my creations is the best thing in the world! I am happy to be putting my art out there and it's been super dope to have like-minded people find it, resonate, plus join me in my musical adventures.
Do you have any regular collaborators or people you work with?
Here's where I plug my AMAZING ganggang – Tauese Tofa and Taka Perry are saintly with their production chops, bringing that extra sonic punch to my projects.
Who would you love to support?
I would be over the moon to support FIYA local artists such as Kaiit, Jay Dean, 1300, A.Girl, yergurl, Taka Perry. I would levitate into the next galaxy if I ever had the opportunity to support or play alongside Tyler the Creator, Audrey Nuna, Joji, NIKI, Kali Uchis, Doja Cat, Victoria Monet, Kanye West, Smino, Amine, Anderson .Paak, KYLE and the list goes on. I just love everyone and they can holler for my potato services whenever they wish, haha!
What are the rest of your plans for 2021?
Keep an eye and ear out for more content! I love surprises so I won't say too much on that, but definitely know that your girl is on a roll!
Anything else you'd like to share with your fans?
Take care of yourself and those around you! Stay educated and well-informed about all situations. There is a lot happening in the world and sometimes we may feel small but know that the small things DO matter. You can contribute to make positive change if you will it. Thank you so much for your time, love and support! I can't sit still – I can't wait to share so much more with y'all!
Make sure to connect with MUNGMUNG on Facebook » Instagram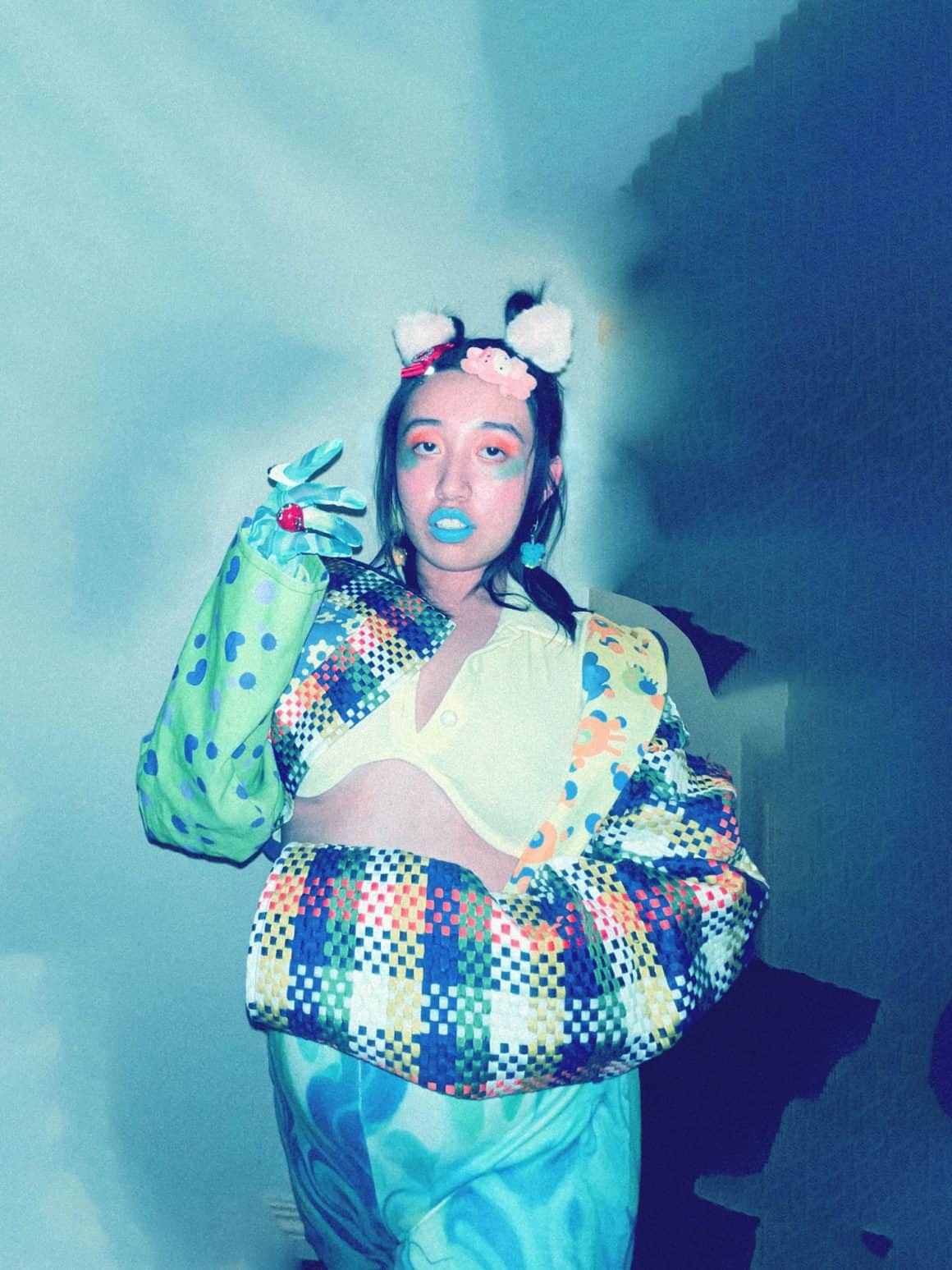 Introducing » Artists We Interviewed
This coverage was created in collaboration with Musosoup as part of the #SustainableCurator movement.