I first came across super talented singer-songwriter Luna Keller at the end of 2020 after she released the single 'Prophecy'. One thing led to another, and she soon became a member our The Power of Indie team. Together we were organizing weekly Songwriting Circle virtual events. We got a chance of getting to know one another really well and had numerous times when we would end up talking about music and sharing one another unreleased music.
Originally 'High Low High Low' was released on Luna's birthday (1st of April) and I believe that now with the release of a music video it is the right time to dive in a little deeper so you could get to know the Luna we already know better.
To me Luna is an inspiration and a great example of a full time musician who is looking at music as her career, and she taps into so many platforms to make sure that she can connect with more people. This year she already released several collaborations, and last week we named 'Never in My Dreams' with Dominic Romano as the best song of June and also the track reached the top spot on our weekly chart.
It is my absolute pleasure to introduce you to one and only, Luna Keller.
Do you remember what was happening in your life when 'High Low High Low' was born? 
I definitely do, it's a song that came to me in a very specific moment. I was at my grandmothers house on the day of the first gig in my house and garden concert tour through Germany and Switzerland last year. Originally that tour was going to look very different, but the lockdown forced me to cancel it and reorganize it. I remember feeling really low for some time, I had just put all this work into my first bigger tour and I was planning to move to Germany in 2020 and then COVID came and two of the biggest steps in both my career and life were delayed until further notice. I took quite a bit of will power but I picked myself up and reorganized the tour after the lockdown. So there I was, finally in Germany, about to play my first concert. A high after a low so to say… and 'High Low High Low' was born in 30 minutes, it just came to me with the realization and message of the song: life goes up and down, there's nothing you can do about it but trying to make the best out of each situation. I played the song at every single one of the eleven concerts of the tour, I spent over two months on the road travelling and the song became my companion. When I came home I knew I wanted to record this one and include it on the album. 
Tell us more about the video and especially about the behind the scenes experience?
The making of the video, much like the song was high low high low. I had the idea to mix animation with real images and asked two of my favourite people to work with me to make that vision a reality. One of them is Pol Camarero, an amazing videographer and friend who's behind the 'A Ray Of Light' and 'Two Chord Song' videos. I knew that if I got him behind the camera the images would be stunning. The second person I reached out to is the wonderful Tom Carter, who's based in the States, he has a YouTube channel with stunning animations and I've worked with him for the 'Let Me Go Now' video.  Luckily for me, they were both on board. Several zoom calls and terrible storyboard drawings from me later,  we had a concept based on the juxtaposition of a blue toned inside world shot inside my own bedroom (the low) and a warm road trip feel scenario in a deserted area Pol and I found during a little trip to scout a good location (the high). This process already took long enough for me to see that we wouldn't have a video ready for the song release – partially my fault for starting to organize everything a bit to late. And there were more challenges ahead… I had to find a nice car for the video (I called so many collectors, visited one… and in the end it was Pol who asked his friend Diego Gutierrez to rent us his car and be the driver in the video), filming went well but then transferring the data to the states was trickier than we thought… many more little things had to be overcome to make our transatlantic collab work. But in the end we made a video I am really proud of, shot and edited by Pol and animated by Tom – they brought my ideas to life and added some ideas I would have never thought of. I am really grateful to have worked on this with them, and I am super excited to share the video now… even if the song has been out for a while.
I'd say that 'High Low High Low' is an anthem to those who survived the lockdown. What does the song mean to you?
I often refer to my songs as friends because they comfort me and help me understand myself better.

INDIE TOP 39
During 2020 I struggled with my mental health and visited some dark places I hadn't been to before. When I wrote 'High Low High Low' I was still pretty close to that but it felt like a bit of a turning point. The first step to accept that no sadness or happiness lasts forever, that all these ups and downs are part of life. And that's okay. It's really a song about embracing life and saying, I am happy to be here for all of it. It became an anthem for me during my tour, to keep me grounded during the highs and hopeful during lows.
Did the lockdown have an impact on how you create music?
Since I record my music  in the home studio with my dad, and we've worked remotely with other musicians quite often before lockdown (due to living in Tenerife which is quite far away from everything) nothing really changed there. However, I wouldn't have had time to record my full album here before moving if my move hadn't been delayed due to COVID. So I guess that's a positive side effect for me, and many musicians I know who finally had the time to record music last year.
'High Low High Low' is a song about embracing life and saying, I am happy to be here for all of it.

LUNA KELLER
Even though you are only 20 years old, you already wrote over 300 songs. Do you remember the very first moment an inspiration came to write?
I don't remember the exact moment, but I recently found lyrics of a song I wrote with my dad when I was 10, so I seem to have been creative from a young age. But I wouldn't really count that as the beginning of me seriously writing haha. My dad is a musician, and he always gave me access to instruments and his knowledge, so I played around from a young age. But music and I didn't connect immediately. I actually tried to learn how to play guitar, gave up, learn piano, gave up, then bass, gave up… at the same time I started writing poems. The magic moment for me was when I gave the guitar a second try, and realized I could use this instrument to write songs. I was 14 and suddenly I knew what to do with music, it quickly became a form of self-expression. To date it is the one thing that comes to me easily – I don't always write good songs but I'm pretty much always able to write something. And I am really grateful for that connection I get to have with myself through music.
I don't always write good songs but I'm pretty much always able to write something

LUNA KELLER
You have such an incredible connection with your fans. What is one memory that will stay with you for the rest of your life?
Oh that's a tough one, I've been incredibly lucky to get many kind messages from fans about how my music had a positive impact in their life. Those messages move me more that they know I think, I feel so honoured and grateful that the songs and energy coming from my heart get to move others. I often struggle to believe it if I'm honest. Last year and this year I started being on Patreon and Twitch with no expectations at all and got more support than I could have imagined. All this to say that I'm grateful, but I haven't answered your question… I remember when I was starting on Twitch three months ago I felt really self-conscious because I was still learning songs for the song list and there was a voice in my head getting really loud questioning if I deserved to be on that platform. I was also going through an intense emotional transformation after finally facing my mental health struggles at the time so those negative voices were getting real loud. But while I was digging myself a completely irrational hole these amazing people showed up to my streams, offered to help me build my community and encouraged me.
The moment I will never forget happened after finishing a stream I felt pretty bad about. My dad told me I had been pretty flat, I played more wrong chords than usually and once again those voices were shouting at me. I got a message that evening from someone who had joined my stream for the first time that day. They wrote me that they had been going through a tough time and that my music and my stream made them smile for the first time in months. I cried at that moment, it's not the first message like that I got, but I felt my brain switch and finally accept that what I do brings value to the world. Not that part of me didn't believe that before, but that was the moment I found the strength to tell that voice in my head what an absolute idiot she is. Yes I am incredibly lucky to get the support I get, but I am not just taking, I am giving a whole lot to the world. And thanks to my lovely luna-tics (that's what my community chose to call themselves), I finally got to accept that and stand behind myself like never before.
Music to me is Love, connection, understanding, comfort, creation

LUNA KELLER
You recently started streaming on Twitch and you already have insane engagement. What is the secret of your success?
I am not entirely sure to be honest. I think part of it is how important connection is to me. I love meeting and connecting with people and Twitch is about knowing and uplifting each other. So I felt really at home from the start, I even got a little addicted to watching other peoples streams because I love being part of this lovely community so much. I think it's really important to watch Twitch and interact to truly become a part of Twitch and find your place there. Another factor that might have influenced me doing well is that my music is really connected to me and I always try to be truly authentic. I think being yourself is a big factor to doing well in life in general, and Twitch is a really genuine place that values that. I guess the fact that I'm not a really crappy musician also helps haha. But big part of it has also been the luck of meeting fantastic people that have helped me more that I could have possibly expected. So there's no one secret, I just jumped in, put a lot of time and love into the platform and was lucky enough to find people that enjoy my music and madness.
Can I just say that it is so inspiring that you have such clarity of what you want to do in your life. You are collaborating with others, do live streams, host events, write reviews have your own podcast/radio show. How do you manage it all?
I don't, haha. Ok jokes aside I do have a certain system but before I talk about that I need to say something. I am often off schedule, last minute, insecure as hell and I make tons of mistakes along the way. I feel like it's important to say that because it's so easy to only see the results and think, wow, look at her having it all figured out! The truth is I don't and I've tried many methods to organize myself that I didn't stick to.
The one thing that I've always kept living by has been to keep going. Keep doing things. Music video two months late? Ok, we'll do a separate release party and launch a new merch line. Song ain't perfect? It hits the mark we're going to release it. Missed the deadline? Next year we can do it. Yes it is important to be consistent and to have a good quality. But there's no step-by-step plan to follow and if things don't work out the way they're supposed to it's not the end of the world.
My calendar is sacred and everything goes in there

LUNA KELLER
Now to the real life stuff I actually do: my calendar is sacred and everything goes in there, I try to never leave things for the last day, and personal time is just as important as work (learned that one the hard way). Working in something you love makes it easy to put too much into it or to say yes to too many things, it's important to find that balance in order to keep creating. I lose it sometimes, but I'm getting there.
I'd love to dig a little deeper and understand which musicians shaped your universe?
Oh my, this could be a really long list. When I was small James Blunt and Coldplay were the first bands that made me feel that deep cathartic connection with music. Many of the older bands my dad listens to have influenced me as well (The Beatles, Pink Floyd, Crowded House…) And then there are some artists and bands like Laura Marling, Lisa Hannigan, Leprous, The Lumineers, Ed Sheeran, Andrew Bird, Mumford & Sons… that I love and that I definitely hear in my own music too.
But recently my biggest inspiration have been my fellow indie artists, who have moved me and opened up my musical horizon in many ways. It's impossible to name all of them but I'm thinking of people like Thomas LaVine, Ben Greenberg, Dom Malin, The Satellite Station, The Radar Station, Clouds and Thorns, IZHAV, Pacific K, Kalden Berg, Ellis Meek, Jewelia, Joe Pope, Allison Leah, Christiana Zollner… seeing these amazing people reinvent themselves and make beautiful music is really magical, and I'm honoured to call some of them my friends.
I know you are currently working on your next studio album. Can you tell us more about the theme that you will be focusing on and how do you know which songs to select?
I am finishing "Prophecies and Silverlinings" at the moment, my debut album which I am super excited about. I guess in many ways it's a coming of age project, a collection of songs I wrote while becoming an adult and discovering who I am. Five singles have been released, and I am really excited about sharing the album with the world. When it comes to how I've selected the songs I've really gone with my intuition to find those songs that show who I am becoming. They all touch different aspects of that: 'I'll Bring You Home' is about being there for those you love, 'A Ray of Light' about finding hope in dark times, 'Let Me Go Now' is about learning that things come to an end and releasing them, 'Prophecy' is about an uncertain future, hopes and dreams… They are all part of my journey and I think together they will be hopeful and exciting to listen to. I am also writing on a darker concept album to follow this one… but I won't spoil too much about it yet.
What does success in the music business mean to you?
Doing what I love full-time while moving people and making a positive difference through my art. My favourite word at the moment is connection, if I get to stay connected to myself, my music and the amazing people I share it with, while they connect with it as well I am happy. I don't need to fill stadiums (I mean I won't say no to that but it's not the main goal haha), I just need to have enough people to make music for and enough money to create freely. Any musician that gets to do music full-time and gets to be fulfilled while doing so is successful in my eyes. There are many ways to do that.
if I get to stay connected to myself, my music and the amazing people I share it with, while they connect with it as well I am happy

LUNA KELLER
What would you like to be remembered for?
Being a kind and good person that lived her truth and made really nice music. I want to be remembered as a positive force that made many beautiful things happen, and that supported others with what she did… But hey, if I'm remembered for my hit songs that's ok too.
This year you are planning to leave the island and move to Cologne. Sounds like a big step forward. How come Cologne and what are you looking to achieve there?
It is a big step! Exciting and a little scary to be honest. But I've known that I need to leave Tenerife to live my dream as a full time musician for a long time. The music scene here in my genre is really non-existent and as beautiful as it is, Tenerife is a small Island. It took me a while to decide where to go, Ireland, the UK, Belgium and the Netherlands were all options. But last year I realized that the right place had been right in front of me all along. The city I visit with my grandmother every summer, close to my family I've lived far away from for all my life: Cologne. It's a beautiful city with a great music scene and it's really central and well connected to the rest of Europe with it's train station. I will be able to play house concerts and other gigs, to tour and travel… without having to fly for four hours every time. It's the next step towards my dreams plus I get to spend more time with my german family so I am really excited to be there. I will miss my parents and my lovely island, but I know it is the right place to go.

What would be your advice for those who want to do music but they might need an extra push.
Just do it! I can see you roll your eyes at how stupid that sounds but seriously, do it. Send that demo to the producer you want to work with, record that song you've been jamming for years, release that track you've been tweaking since forever, write that cool artist you want to open for, send your music to that blog you love. Here's a little secret for you: all artists have self doubt, all artists have songs they are not sure about. Maybe your favorite song is actually one of those – would have sucked if the artist hadn't released it right? The key isn't to be perfect, it's to be authentic and to put that love you have for music out there. And if you think you don't deserve something or that you're not good enough, do it anyway. No one climbs a mountain without learning how to walk first. No one starts at the top. So be aware of where you are, stay grounded but create as if that mountain was right in front of you. Don't be afraid of falling but do be afraid of standing still.
Close your eyes. Imagine its 20th of January 2022. How would you summarize 2021?
It was a really intense year full of uncertainty and transformation. I learned a lot about myself, went through a painful time and had to let go of many things. But I also got to connect with the most wonderful people. With them and my music I have experienced so much joy, I have found a family scattered all over the world and I've built a new home for myself. Oh my, it really was a rollercoaster – high low high low indeed. But I wouldn't change a thing and I am grateful for where all those things took me.
Make sure to connect with Luna Keller on Facebook and Instagram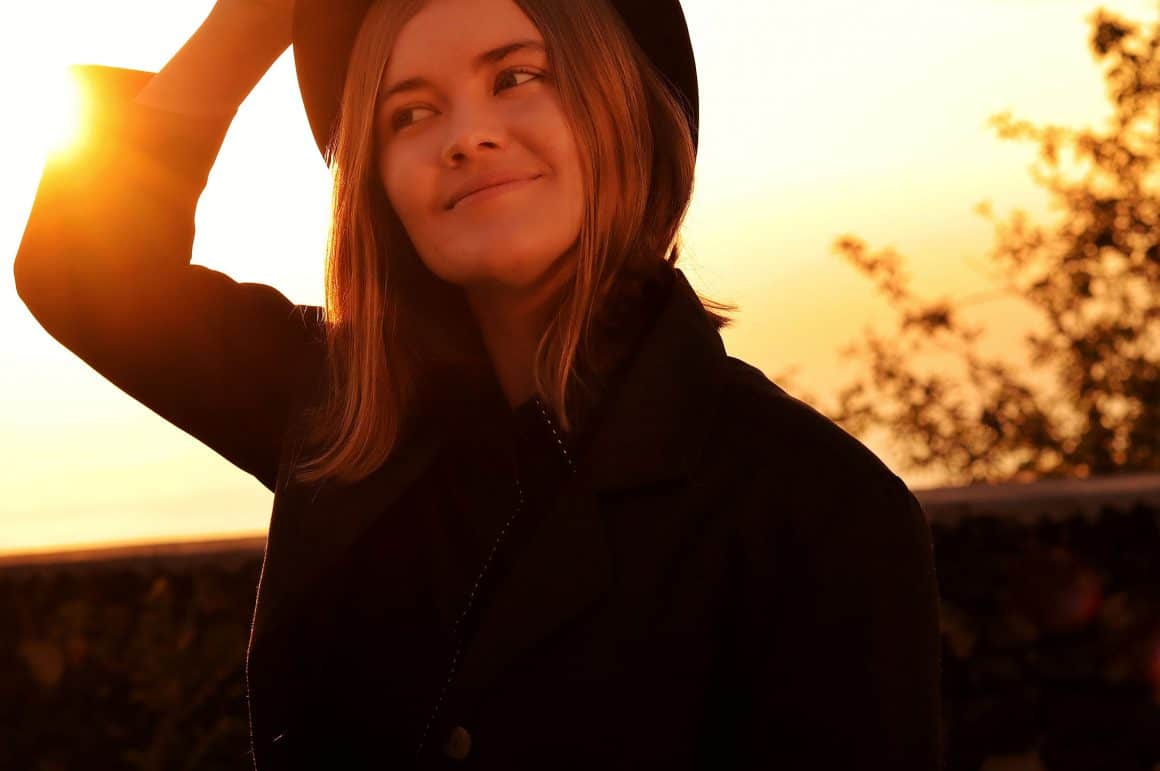 Introducing » Artists We Interviewed