We at Indie Top 39 recently discovered the talented Sydney based indie outfit, Grids & Dots. Their debut EP, What Happens to Friendships?, was released March of this year and is an extraordinary blend of dreamy, shoegaze pop. Full of warmth and nostalgia, it captures the band's most defined sound to date, and has been a staple on my playlists ever since I first heard it. I was delighted to find out that the group has been hard at work recording their second EP, and even more delighted when they agreed to do an interview with me! Introducing… Grids & Dots.
Let's start things off with an easy one – who are Grids & Dots and how did you all meet one another?

Grids and Dots started off as a little project in an apartment in Pyrmont, Sydney with Carmen Minikus on synth and Daniel Handaru on guitar. We were dating at the time and as the relationship developed, so did the band. Now we are married! Eventually we met with Pat Hisshion, a drummer who had just moved from US, and he just gelled with us personally and musically, and so we formed our permanent trio. After trying out a handful of different bass players, we've been so lucky to have found Saskia, who is both a super sweet person and a talented bassist.

You were able to work with ARIA award-winning producer, Wayne Connolly, who's worked with some of my favourite bands, including The Hives and Hungry Kids of Hungary. How was the experience of working with him – especially under such trying circumstances (Covid and all?)
Yeah, Wayne has been instrumental to us in finding our sound and identity. He is at once our producer, label manager and trusted friend. We first approached him because he's produced a number of albums by an Australian band called The Underground Lovers that I just grew up adoring. Working with him has been eye-opening in terms of how he thinks about song structure, balancing experimentalism with melodicism. In terms of working through COVID-19, it was pretty tough because the whole city locked down just as we started recording, so it ended up taking us a lot of the year to fully record and mix seven songs. It did give us a lot of breathing room to think about and explore the details of our songs in a way that we probably would not have if we'd recorded it all in a week or two though.
Your single, 'The Great Divide', has over 160,000 plays on Spotify. What do you think led to the track's success and how does seeing one of your songs do so well make you feel?

We hadn't even planned to record that song when we went into the session. We had accidentally sent Wayne an early demo of it, and he just insisted we get it down even though some band hadn't even heard it before. I guess that's what you call having good ears! I think it just has a catchy sing along element which is missing from a lot of music that I hear at the moment, and the male female vocals are fun. Another reviewer said that we are balancing simple sweet melodies with an undercurrent of guitar experimentalism underneath, and I think that hits the spot.
When we first finished mixing and mastering the track, I honestly didn't know what to think of it – I kept thinking about should I have done this or played that differently. It's only with a bit of distance that i can actually listen to it and think 'oh, it's a nice sounding song!'.

I absolutely love the music video for 'City Skies' and that is, by far, one of the cutest dogs I've ever seen. What was the inspiration and how did you come up with the visual ideas for the video?

Haha that video was all Carmen's idea. It's actually our pet dog Wilco in it and we used to even play a song dedicated to him in an early version of the band. Carmen re-interpreted the lyrics as being about a dog who is just finding his way, and falling in love with the big city, and we worked with some really talented guys from Oakville films to put it together in a really short space of time.
Tell me more about your creative process as a band. How do you take just a thought or an idea and turn it into a finished product?

Umm usually either I or Carmen start by writing a riff, a melodic structure and some lyrics. Sometimes I'll bring in a complete song and ask the band to put some colour into it, and as we rehearse it the song will undoubtedly change as they put their own personality into it and take it where they feel it needs to go.
I feel like all four of us have a really unique individual sound in terms of how we play our instruments and that's how we create the G&D sound.

Grids & Dots
Finalising the lyrics is usually the last thing either I or Carmen do, usually just before we go into record them!
What song are you most proud of bringing into this world?

So far, probably Dishes and Days which I was really nervous about when we first recorded it because I just wasn't sure we pulled it together in time, but every time I listen to it now I feel like it really sums up who we were as a band at that moment in time. What Happens to Friendships in Winter? was completely off the map for us and exploring different terrain, even featuring an impromptu double bass and violin, giving it a really organic feel. Really proud of having done something so different from what might come naturally otherwise. I think it has a Velvet Underground type of feel to it.
What are your thoughts as a band regarding the music industry as a whole and what will success in the industry look like for Grids & Dots?

That's a tough one. On one hand, I feel like it is difficult to make a living just from playing music today because of the lack of monetary support from streaming services. When I brought it up with a friend of mine, also a musician, she said well, the music is almost just like your promo material now, so I guess that means you must make your money via merch or playing live or sponsorships etc.
We exist in a musical industry where music is the promo and you are the product rather than the other way around. It's weird.

GRIDS & DOTS
I would love for Grids & Dots to simply continue to release music and grow our fanbase, play some exciting shows and have some adventures along the way. We'd love to go overseas and play for the people who listen to us over there. We want to be a great live band. If eventually we're able to make some kind of living from it all, all the better!
Had you not chosen to pursue music, what jobs would each of you be doing now?

Haha we all actually currently have day jobs apart from music. Carmen and I work full-time as designers in the digital space. Who knows if that will change?
You're clearly fans of Nick Drake, given your superb and poignant cover of his track Hazey Jane I. Who else influences and inspires Grids & Dots?
Thanks for that! We're inspired currently by A Beacon School, Small Black, Ruby Haunt, Black Marble, Mere Women.. A band from here called Flyying Colours recently released an album which is right up our alley as well.
Between us all there are way too many artists to mention in terms of influences from the entire history of music.. I always have a place in my collection for John Coltrane, Ride, Paul Westerberg, The Go-Betweens, John Hopkins, Olafur Arnaulds and The Underground Lovers.
Hercules Street Studios, where you recorded What Happens To Friendships? looks like an incredible place to work and record. Do you have any funny or interesting stories from the time you spent there?

Yeah it's such a cosy little space and it always has a lot of great instruments lying around.. 12 string guitars, vintage fenders and rare amps, analogue synths.. The double bass we used on 'What happens to friendships in winter?' just happened to be lying around the studio when our bassist at the time, Josh just picked it up and started playing along to it.
Obviously there hasn't been much live music of late due to the pandemic.  How excited are you to eventually get back on stage in front of your fans and showcase your high energy live sound?

Actually Sydney miraculously got through the lockdowns quite early compared to a lot of the world (touch wood) and we were able to play a bunch of 'limited capacity' shows around Sydney late last year through this year. It was great for us because they were our first shows with the new lineup, and the audience was starving for live music after a year in lockdown.
We really learned to play with one another and there is just nothing like the adrenalin and joy of playing live.

GRIDS & DOTS
American author Jodi Picoult says that, "the music we listen to may not define who we are, but it's a damn good start." Would you agree?

Absolutely. I've always thought that music can be something like expressionist painting, where the painter is giving you a brief glimpse into their world and the listener interprets this and takes whatever they can from it. I remember when I was growing up the music I listened to definitely helped me to define the type of person I wanted to be and what I aspired to, even if I had never picked up an instrument. The music I discovered also helped me feel a lot less lonely growing up in my hometown than I would have otherwise, and that's something I think a lot of people I've known have in common.
Australia has produced some serious musical talent over the years, with recent bands like Gang of Youths and Tame Impala in seriously high demand.  What's in the water on that side of the world?

I'm not sure what it is, but all the way from the late 80s with bands like the Go Betweens and the Falling Joys, I think Australia has always had a pretty great indie rock scene.
There's just something about super loud jangly guitars, drums and summery melodies which always resonates here no matter what the fashion is around the world.

GRIDS & DOTS
You're allowed to collaborate with one musician or band. Who do you choose?

I think we'd love to collaborate with a really great electronic artist. Our first single, Never Change, sort of veers a little in that direction and if we have an opportunity to, it'd be great to do something like that again.
Collaborating the G&D sounds with Olafor Arnaulds or John Hopkins would be my dream.
What's next for Grids & Dots?
Well first things first, Carmen just had a baby so we're off the gigging / touring circuit for a little while, but we've actually already started recording our second EP of four songs with Wayne Connolly in the same studio at Hercules St. We're super happy with what we've done so far, and I think it will be a progression from our first ep. We'll finish it and start playing shows again later in the year. In the meantime, I've started writing more songs for yet another follow up ep!
Make sure to connect with Grids & Dots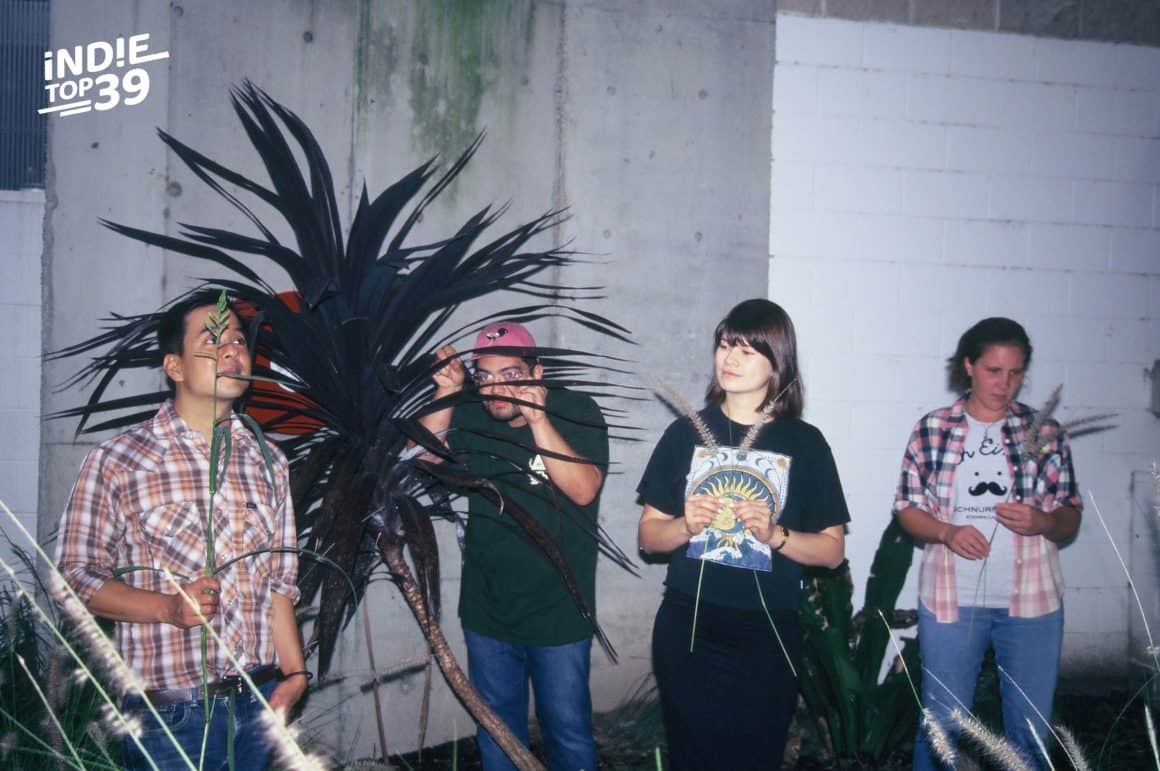 This coverage was created in collaboration with Musosoup as part of the #SustainableCurator movement.