It is hard to believe that Geena Gongi started her journey releasing music only in 2020. She admitted during our conversation that pandemic was the so much-needed trigger to actually focus on music. Creating music together with her friend Mike Walsh seems like a turbo combo. The pair is creating songs that take you on a journey.
I can't wait for the moment when their music will be featured in a movie. They already have the quality and if you had a chance to hear 'Luna' you will know exactly what I mean. The track is already spinning on our Weekly Chart and today we also named it one of 39 best songs released in April.
When I listen to Geena's magical music my mind starts travelling. It fills me up with so much positivity that it is hard to stop smiling. I am thrilled to have an opportunity to introduce you to one and only Geena Gangi.
You started your career during the year that will be remembered for all the wrong reasons. Tell us about the journey until the moment your debut single 'Half Dreaming' saw the light of day!
I've been writing music since I got my first journal and tiny kid's acoustic guitar. Mike has definitely been the same, though instead of writing lyrics he was more formally trained in guitar, drums and jazz trumpet. Once we got to college, writing stuff together just felt natural. I lean more towards words in my songwriting, while Mike leans towards the instrumentation and production, so it was like yin and yang. We'd been writing and recording for all of our college careers, but we didn't release 'Half Dreaming' until we were 21 and in our senior year of school. I'd written the lyrics to the song the summer before, but something about it felt very in tune with the time of 2020.
Last year was definitely a tough one. My last semester was in the Fall of 2020 since I graduated a bit early. I was going "abroad" to the Emerson LA campus- or, so I thought. With everything that happened, it ended up getting cancelled/ being fully remote. So, instead of living my fantasy final semester of school in the City of Angels, I was going to class on my laptop in my childhood room from 10pm-1am every night (the classes were still in PST time). Instead of wallowing in the sadness of what once was (which I definitely did do for like 3 days), I took it into my stride. What was going to be a long distance relationship with Mike turned into me still being able to go into Boston, record and learn about music marketing and publishing in my free time. Honestly, I think the whole mess of 2020 is what kicked us into gear to actually start releasing what we were making, so I'm thankful for that.
The whole mess of 2020 is what kicked us into gear to actually start releasing what we were making, so I'm thankful for that.

GEENA GANGI
Looks like you and Mike Walsh are a powerhouse. Do you remember when your friendship began?
We went to the same high school! He's from the town next to mine in the woodsy suburbs of Massachusetts. He was one of my best friends all through high school, though we had definitely friend-zoned each other or were in other relationships. He was one of my constants all through school, and he still is. When I finally worked up the courage to perform for the high school talent show etc., Mike would always accompany me on guitar. After high school graduation is when a relationship began – you know, once we both already knew each other's families and stuff. It was so easy. I got really lucky with that.
You released 3 singles so far and I got to admit each one of them sound like they come from a different sonic universe. How did you achieve this?
I'm not sure if you mean that like a compliment, but I'm taking it as one! I spent YEARS overanalysing my writing, both screenplays and music, trying to find my genre or my "voice". I understand the benefits of being able to categorize a piece of creative work like that, but I had too many vastly different influences that it felt so confining to pick one. One day I wanted to write disco, the next week I only listened to Phoebe Bridgers, followed by exclusively watching Missy Elliot music videos, playing Stevie Wonder records on a loop or only listening to Disney film soundtracks in order. I'm the same way with screenwriting too, which was my major in school. I can't limit my own creative work because either I'm still trying to find my voice, or my voice just happens to be a mix of everything.
I can't limit my own creative work because either I'm still trying to find my voice, or my voice just happens to be a mix of everything.

GEENA GANGI
Luckily, Mike's brain works the same as mine. We can listen to Frank Sinatra and Wynton Marsalis the whole car ride to the place, then listen to Rush and Nirvana on the way home. I think the important thing is that the sound matches the story being told, and Mike has this fantastic way of taking a feeling and putting it into a sonic landscape.
Let's break down each of the singles. Can you tell us more about the inspiration/message behind the songs?
Half Dreaming
'Half Dreaming' is essentially about someone with insomnia who has the terrible habit of overthinking and panicking about everything. If you can't tell, it was a really personal one to me haha. I often can't sleep at night -which is sometimes good for creativity – but sometimes sends me into this spiral of introspection that feels more like a nightmare than my actual nightmares. I wrote about that feeling to try to get it out of my head.
The first verse of the song was written at one of my summer jobs working the 6am shift when I was SUPER sleepy. I had spent the entire night before daydreaming about what I hoped my life would be like and overthinking about all the ways that could go wrong or what I'd be if it didn't happen. I'm a super in my head, dreamy kind of gal, and I really feel like sometimes I'm half here in real life and half in my dream life. It seems romantic, but it can also take a toll on you in the real life part of existence. Hence, Half Dreaming'!
Take It All Back
'Take It All Back' is a really easygoing song that Mike and I made with our friend, Chris Feree, who is also an artist under the name savesomeone. Mike had made a whole instrumental demo for this one first, which was interesting since usually we start with my words first. It was a fun challenge to write to. Chris and Mike got the chorus down and Chris wrote the verse that Mike sings on the final track.
We knew it sounded like a break-up song, but something about it felt light-hearted too. So we turned it into a sarcastic, "I Can't Believe I'm Still Doing This" type of song.
I described 'Take It All Back' to my friends as "when you text your ex "wyd", then ask yourself "WTF am I doing?"

GEENA GANGI
I had a REALLY fun time turning my verses into a kind of conversation since Chris had already written the male part. I made all of my lines rhyme with his adjacent lines since I pictured the bridge to be kind of yelling back at each other. It was so satisfying once we recorded it and what was in my head actually worked. I love the bridge of that song since we used voice memo elements from the writing process too. It feels raw and real to me, but still a fun dance song.
Luna
'Luna' is my favorite so far. I actually wrote most of the lyrics in high school. I had the lines "darling you don't know/ but Luna you control/ the movement of waves" in my journal since the beginning of 2017 I think. Since then, I think I've been through 16 journals, but the idea remains. Here's what I wrote in my initial post about it, which I think does it justice.
It was inspired by some of you (and you thought no one noticed :)). I've met so many people who compare themselves to others who shine stereotypically "bright". You may not realize the impact and beauty you have because you're judging yourself against people who have an entirely different light.
Some people aren't sunlight, but moonlight. It's a more subtle, humble, ethereal sort of glow.

GEENA GANGI
Some people aren't sunlight, but moonlight. It's a more subtle, humble, ethereal sort of glow— but I promise you it's just as lovely. Luna tells the story of my fondness for people like that (like you?) it can be a love song, an in-love song, a self-love song— whatever and whoever it makes you think of. but I have a feeling that the words will definitely remind you of someone.
The sun is warm and loud, but the moon is cool and soft. A graceful kind of power that can move oceans (literally) and pulls people towards you.
"Darling, you don't know but, Luna, you control the movement of waves"
Someone comes out next Friday & I've never been so excited to share the sounds of my soul with yours. Plus you'll hear Mike's production/ instrumentation/ general magic bring it to life. Can't wait for you to send this to the Lunas in your life"
It's so inspiring to see that you are taking things extremely seriously and you are blending two worlds together — screenwriting and writing for TV and film. Do you remember the moment when you said, this is exactly what I want to do?
I'm not sure if I had a moment like that, since I've felt like I've always known this is my purpose. I've always loved performing, and acting is another passion of mine equal to music and writing. For a while, I thought about pursuing that in school. I was also debating studying music business or entertainment law since I'm a huge nerd and had the grades for it. Although, the world of film and television was something I had ZERO experience in or connections to. I'm the type of person who likes to understand things all the way around them.
For example, I write songs and am a singer, but I wasn't comfortable writing a song and handing it to someone else to do the rest for me. Instead, I figured out a way to get a concentration from Berklee College of Music in Music Business, so I could learn how to own, protect, distribute and market my music to an audience. Majoring in Media Arts Production at Emerson seems like my best chance at getting that experience for writing for the screen, and I still think it was the right choice. I also learned that I love to fuse my passions for everything since a lot of my scripts are targeted for younger audiences and include music in them (maybe I'll write a Disney film someday :)). I don't know if I would have realized that path if I didn't do everything in the order I did.
Out of the singles you released so far, 'Luna' is the most cinematic and I see it in a big budget movie like 'La La La Land'. Is there a difference in the way you write songs when you think about the possible placement opportunities?
That is so funny you say that. Since I don't have a "genre" of music that I always make, when people ask I say we make songs that sound cinematic. I love storytelling in songwriting and look up to people like Taylor Swift, James Taylor and Carly Simon so much for that. At the same time, I love the kind of storytelling that's in a film musical (like La La Land!!!!) or "A Star is Born" or "Moana" that is more akin to theatre in that the songs legitimately drives the plot of the story. I like that sort of movement, and I love a sound that encapsulates a feeling like a good scene in a movie would. Mike just so happens to be magical at making that, so again, I'm lucky.
Would it be correct to say that you are a storyteller? What does 'sharing a story' mean to you?
I hope so! That's what I'd like to be. Sharing a story is essentially putting a feeling into words, and putting the words into the air. That way, other people might connect to it too.
To get into Emerson, I had to write an essay about what I'd title my life so far. I call it "Constellations". First off, because I have a borderline crazy obsession with stars and the sky (you might be able to tell based off my writing haha) but also as a metaphor for connections. If we're all stars, we're all beautiful and necessary and bright on our own. That's undeniable. But I think I live my life in the hope of making connections, of turning stars into constellations, or something more beautiful and complex than we could be alone. I like making people feel like they have someone, and in return, I feel that too when I tell my own stories to you.
If we're all stars, we're all beautiful and necessary and bright on our own.

GEENA GANGI
Lockdown was a tough time for most of us. How did you handle it?
I was extremely fortunate in that my biggest bummer was simply the fact that I was stuck home. I got to stay in my parent's home with my twin sister, Toni, who is also an Emerson grad, my younger brother, Danny, and our chihuahua mix, Bruno. They're my best friends, so I actually had a really great time all things considered. My family took lockdown very seriously and everyone stayed healthy, which is honestly all I could ask for.
Tell us more about your creative process? How do songs come to you?
Most of the time, I write little poems of stream of consciousness pieces in one of my many journals. I have a thing with handwriting – I like seeing it on the page. It flows more naturally to me to write a line with the pen, and have the next ready by then. From that idea, I'll decide if it feels like a song or a script, which essentially has to do with how complex the idea is or how many characters are involved. If I think I can evoke what I want to say in a catchy chorus of a 3-minute song, I'll get some voice memos of potential melodies down and start sending Mike about 12,000 texts.
You mentioned that you are trying to create different worlds with your songs. Can you share more about this magical process?
I can't really tell if I'm doing that consciously or subconsciously. I'd like to say that I'm the type of auteur who is aware of that stuff and does it for their audience, but at least right now, it just feels cathartic to me. I don't always watch films or TV or listen to music because I want to picture myself there. It's the same with songwriting. While 'Half Dreaming' and 'Luna' happen to be super personal to me, 'Take It All Back' just came from a made up situation that fit a fun hook. Often times, I write songs as characters I've made up previously. I LOVE doing that, and I have a lot of ideas and plans regarding it. Sometimes, certain stories just exist in different places, and I try to evoke that the best way I can.
I am really curious to hear about the movies that inspire you. Do you have favourite directors that you would binge-watch? (for me it's David Lynch and Tom Tykwer)
As you can gather, I'm quite all over the place with my influences. My most updated list of my top 5 movies shows that pretty well, so here they are. Tied for first is Singing In The Rain and Peter Pan (Disney animated one), third is The Departed (not a Disney animated one), fourth is The Jerk because Steve Martin is my favorite ever, and fifth is Iron Man 3 which got way too much hate and is a masterpiece to me.
For favorite directors, I love everything Greta Gerwig does, as well as Olivia Wilde. I also love The Russo Brothers directing style. Overall, I've probably read about and watched every popular movie with a female director that I could. I'm a huge advocate for female and non-binary equality in the entertainment industry. I was Vice President of an org at Emerson dedicated solely to that, haha.
I'm a huge advocate for female and non-binary equality in the entertainment industry.

GEENA GANGI
What would you like to be remembered for?
Being kind, intelligent and changing the landscape of the entertainment industry for young creators, especially females, in favor of the artist/ creator.
Do you have a song that when you hear, you'd be 'Damn I wish I'd written that'.
ALL THE TIME! Most recently, I've definitely thought that about "Say It" by Maggie Rogers and "Best Part" by Daniel Caesar and H.E.R. I also think that about "Where Do I Go?" by Lizzy McAlpine.
Close your eyes. Imagine its 20th of January 2022. How would you summarize 2021?
Dreams Alive.
Is there anything else you'd like to share with our audience?
It was a pleasure to meet you and thank you for reading my thoughts for a little while! Also, Mike and I might have something new coming sooner than you think. And, yes, it is a wildly different sound than our other ones again.
Make sure to connect with Geena Gangi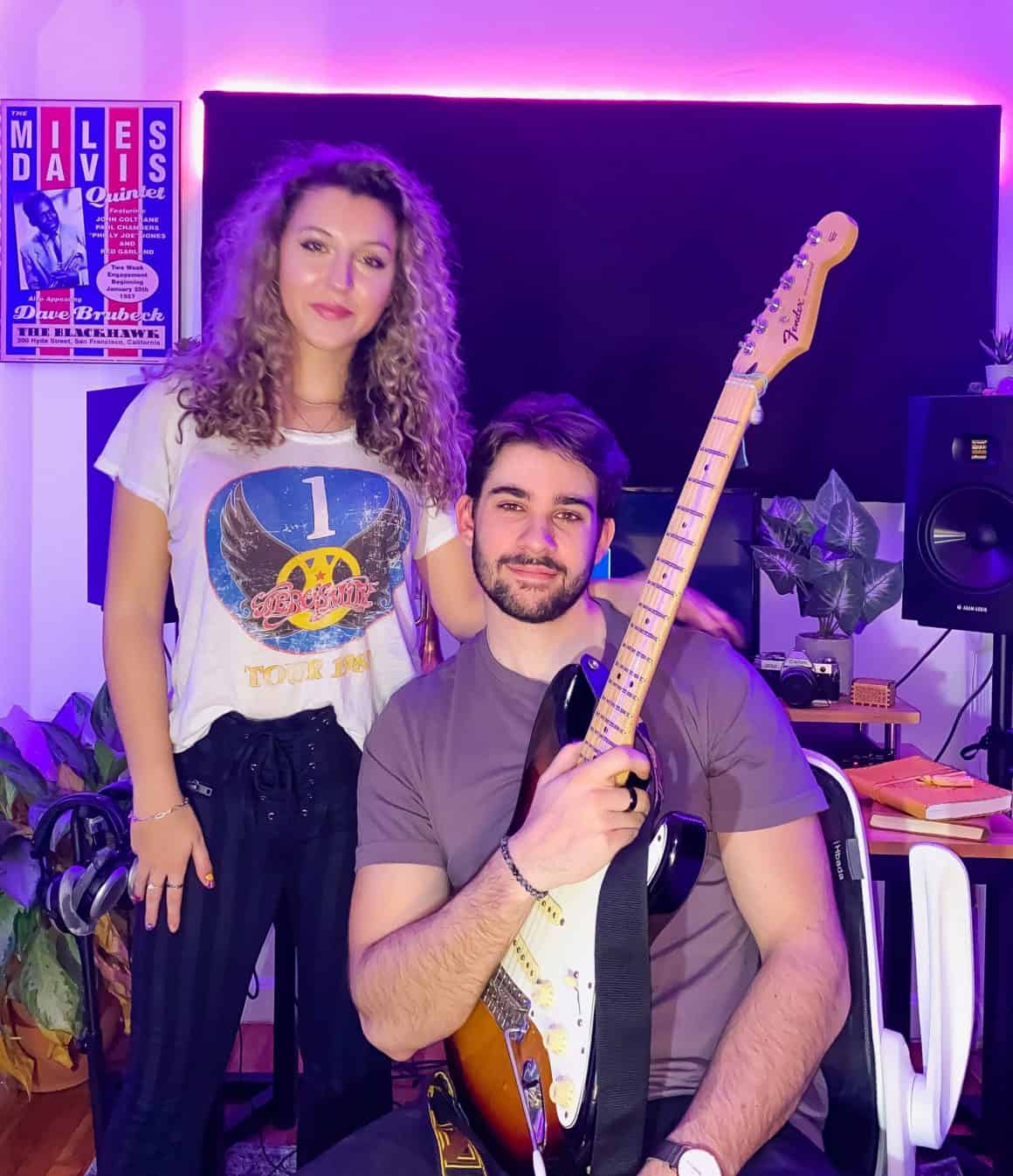 This coverage was created in collaboration with Musosoup as part of the #SustainableCurator movement.
Introducing » Artists We Interviewed