Today, we'd like to introduce you to Los Angeles-based artist, producer, and singer/songwriter frogi. About a month ago, she released an incredible tune called 'stupid heart', and we at Indie Top 39 simply fell in love. We then found ourselves listening to her previous releases and realised that there's something quite special about the artist. Chatting to us about her creative process, her thoughts on the current state of the music industry, and what song she'd steal if she could, please give a big welcome to frogi.
Hello and welcome frogi! We're so thrilled to introduce you to our ever-growing audience. Could you tell us a little bit about your musical journey, and when your love affair with music started?
Hi and thanks for having me! My musical journey started when I was a child. I have two sisters and we have been singing together ever since we could talk. I was in choirs as a kid, and I also took piano lessons. I wasn't the best at practising but I'm grateful now that my parents encouraged me to stick with it. I always wrote poetry as well. That was definitely my first step in terms of songwriting. I learned how to play the ukulele when I was about 16, and I dove into songwriting then and haven't stopped.
I first discovered your music when I heard your latest single 'stupid heart', and I fell in love with it instantly! It's just such a chilled-out and euphoric tune. How proud are you of the track, and what does it mean to you?
Thank you so much! I'm glad you like it. I was actually planning on releasing a different track, but after I wrote 'stupid heart' I felt like I had to put it out right away. I'm definitely proud of it – both from a production and songwriting standpoint. I produce all of my music myself, and this track felt simple but very fresh and exciting to me. I pushed myself to play the guitar even though I don't view myself as a guitar player, and it turned out better than I thought it would. I think good things come from pushing yourself into uncomfortable territories sometimes, so I'm glad I did it. In terms of the lyrics, they really just spilt out of me. I was inspired by the ending scene in the movie Call Me By Your Name, where Timothee Chalamet's character is heartbroken and staring into the fireplace crying. It made me think about young love, and how hard it can be to be a sensitive person in love for the first time.
I know that you were accompanied by an all-female choir of women, called frogi friends. You have to tell us more!
Yes! During live performances, I have the frogi friends perform with me. I record all of the choir parts on my own, but during a live show, I really wanted to create that atmosphere of a choir to encapsulate how I was hearing these songs in a live setting. It became a little bit like a sisterhood, and although we haven't performed together since COVID hit, they are still like sisters to me and I'm so grateful for them. We help each other out and each of them has so much individual talent. I'm grateful to call them collaborators and friends.
Some of your other songs, like 'moonlight' and 'Dylan' for example, have other 380,000 and 660,000 plays on Spotify respectively! How does it make you feel to know that so many people have been listening to and, most importantly, enjoying your music?
It's pretty surreal, honestly. It's hard to comprehend numbers like that on a screen.

frogi
I think it hits me the most when I receive messages from listeners saying my music has affected them, or they relate to me in some way. That's when I realize my music has reached people far and wide and is actually making an impact. I don't know if I'll ever get used to it but it's a really great feeling.
I'm always intrigued by artists who decide on lowercase lettering, be it in their name or their songs. will.i.am, or k.d. lang for example. Is there a story behind your lowercase choice?
I think the visual aspect of my art is just as important as the auditory aspect, so I made a conscious choice to present myself in a way that is aesthetically pleasing to me. I decided to do all lower case letters at the start of frogi because they feel a bit playful and child-like, and they catch my eye in a way that normal writing doesn't always do. And really I just like how it looks!
Could you tell us a bit about your creative process? Not specifically for 'stupid heart', but in general. How do you take an idea and turn it into the finished product?
My creative process varies from day to day. I don't like to get too stuck into routines because I can get bored easily. Sometimes it looks like an idea hits me all of a sudden and I practically vomit out a song, and sometimes it looks like weeks and weeks of rewriting. Either way, I try not to put too much of a structure around it because I need to feel like I can try new things and have space to breathe and let things be unfinished for a while. As a producer for myself but also other artists, burnout is a real issue, so I definitely have to practice self-care.
Pushing myself out of my comfort zone and trying new things always helps me feel inspired.

frogi
Who are some of your biggest musical influences? Who did you grow up listening to? And would you say that your tastes have changed over the years?
Growing up, my parents would play a lot of The Beatles, Neil Young, Joni Mitchell, and Bob Dylan. Whenever I hear 'River' by Joni Mitchell, I think of my mom. I was definitely influenced by 60s and 70s folk as a child. That morphed into alternative and indie when I was a teen. I started listening to The National, Band of Horses, Arcade Fire, Bright Eyes, Bon Iver, First Aid Kit, The Shins… the list goes on. But I became absolutely obsessed with finding new music to listen to at around age 15. I would spend hours and hours just listening and burning CDs. I think my music taste was formed in my teenage years, and I still love a lot of the music I listened to back then. But now I definitely expand my horizons a lot more. As a producer, I try to find inspiration by branching outside of my go-to genres. I've recently been really excited about classical music – in particular Max Richter's recomposition of Vivaldi's Four Seasons. On a day when I'm feeling things, Phoebe Bridgers will always be my go-to. And I'm a Fleetwood Mac super fan as well.
Whilst we're not quite in the clear just yet, it does finally seem like the world might be getting back to some sense of "normality" regarding the global pandemic. How did the world shutting down affect you?
Oh, man. It affected me in a lot of ways! I think I was really privileged in the fact that my partner and I had each other and a stable living situation. And I have my animals (two dogs and a chameleon). I'm also quite introverted by nature, so staying home for days on end didn't really bother me that much. I'm actually leaving tomorrow to go be by myself for a month to write an album. So I quite enjoy isolation actually, haha. There were definitely moments that were painful and worrisome. I worried about my family and my partner's family a lot. I think that everything happening in the world made me start to think differently about my connections with people as well as myself. I went through some tough friendship losses as well as some deep introspective periods and issues with my connection to myself. I think I started to become more aware of the kind of person I wanted to be, and the kind of issues I care about as well.
What would being successful in the music industry look like to you? And on the same subject, what are your overall thoughts on the current state of the industry? What would you change if you were able to?
I used to think being a pop star was my only option. But now that I've branched out as a producer and worked in many different capacities, I think my idea of success has changed. Right now, if I can have the opportunity to make art the way that I want to and keep a roof over my head, that is success to me. I think the music industry has a lot of growing up to do. I think Spotify should give artists a bigger share of streaming royalties. I think the industry should be more focused on music than how many social media followers someone has. I think the business has toxic dynamics between artists and "business" people. And I think that female producers are highly underrepresented. Between streaming services and social media becoming the main focus in entertainment, it's a bit like the wild west in the music industry right now.
It's a strange time to be an artist. It's a strange time to be a human, really.

frogi
I don't have answers for the industry as a whole, but I do try to make an effort in my immediate circle to make choices that feel right to me. Making the choice to produce everything myself is also something that's within my control, and I help other women learn how to produce their own music, too. I want female artists to feel empowered in their work, so I try and help make that happen as much as I can.
So, I imagine this is like asking you to pick a favourite child, but which song of yours are you most proud of to date?
This is like picking a favourite child! I'm proud of them all for different reasons. I think the first frogi release ever, 'peace of mind,' is what I'm most proud of. It was my first time releasing something that I produced myself, and it did better than anything I had released prior to that. So I think that was a big marker in my career. It gave me a boost of confidence and some reassurance that I can do this.
When you're not creating music, what fills your days? What does a non-music-day look like in the life of frogi?
I love hanging out with my animals and my husband. I really like being home and just spending quality time together. My chameleon, Broccoli, loves to be out in the sun so I'll take him outside with the dogs and just chill out. I also really love drinking wine with my friends and sitting on my roof. And I'm a biiiiiig fan of The Sims. I play it a lot. Probably too much.
If I stole your cell phone and opened Spotify (or your streaming service of choice), who would I see under your recently played section?
Let's see! I promise I won't cheat.
BANKS, Hall & Oates, Florence and the Machine, ABBA, The Weeknd, Caroline Polacheck, Dora Jar, William Tyler x Sylvan Esso, VAAAL x Koda, Maude Latour, Beach House.
OK, now it's your turn to do the stealing! If you were allowed to "steal" one song in the world and claim it as your own, what would it be and why?
I wish I wrote 'The Way I Feel Inside' by The Zombies. I have listened to that song probably over a thousand times and it stabs me in the heart every time.
What does your musical future look like?
Well, as I said before, I am leaving tomorrow to go write an album. So my immediate future is my chihuahua Finn and I on the other side of the country writing my first full-length album from start to finish. Wish me luck!
---
Make sure to connect with frogi on Instagram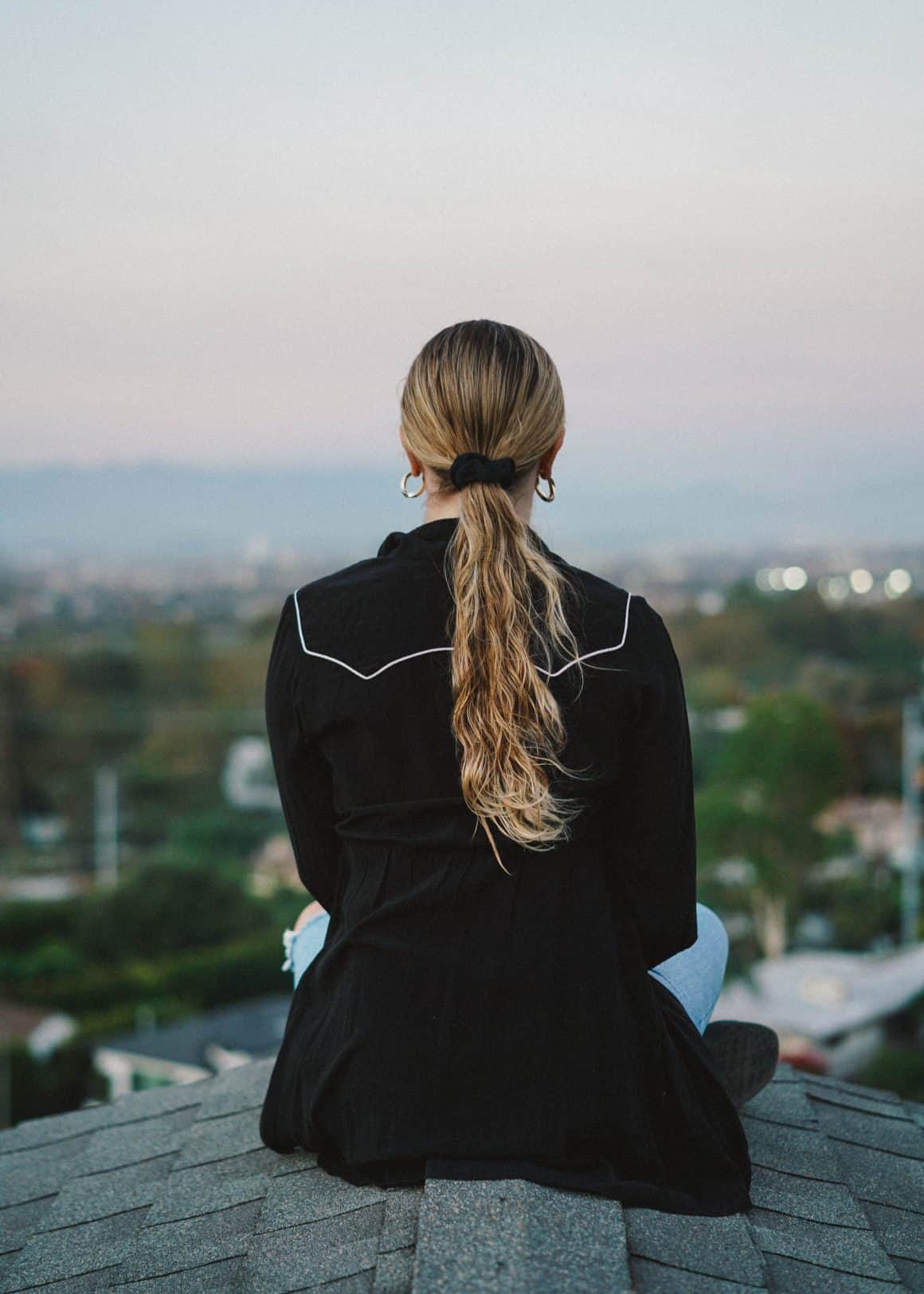 We added frogi's 'stupid heart' to the playlist of all the artists we interviewed so far.
Don't be shy to give it a listen!