I still remember the moment I heard Florie Namir's music for the first time. I was going through our direct submissions and declining songs one after another. And then I stumbled upon 'Piece of My Soul' that Florie shared with us. This took me on a journey to listening to her whole EP.
Even though my world revolves around indie, folk and acoustic music it was so refreshing to listen to Jazz. It was a real pleasure to know that Florie was open in sharing her story and let us closer into her world.
Today I am super thrilled to introduce you to London based singer-songwriter, composer and person who always seems to be smiling – Florie Namir.
Congratulations on your recent release. Tell us about the journey until the moment your EP 'I Wanna Be In love' saw the light of day!
Thank you! It was a long journey. It took almost 4 years and two continents until the EP was ready for release. I started working on it with engineer Nick Zampiello back in Boston where I lived. We made detailed demos to have a more accurate illustration before calling a drummer, a bass player and a guitarist into the studio. Some of the electronic layers, synths, Korg, and other sounds, like the Skype opening asset in Time Is Melting Down didn't make it to the final cut.
It took almost 4 years and two continents until the EP was ready for release.

Florie Namir
The EP was supposed to sound a bit different. Then life happened, I left Boston and moved across the Atlantic to London. While handling life in a new place my baby was born, then the pandemic hit and when things calmed down a bit for me personally, I resumed the work with Roee Bet from Beta Studio here in London. We completed the piano recordings and re-recorded some of the vocals, because I felt my voice had changed or perhaps it was the new place I was in life.
I wrote the arrangements. It was a matter of trusting myself to be able to write appropriate arrangements that would not sound misplaced in this medium. I tried to capture the songs in the same way they have been playing in my head. I knew, for example, there should be live strings and horns. The musicians came from various parts of the world and they sent us their recordings and we put it all together.
I tried to capture the songs in the same way they have been playing in my head

Florie Namir
You successfully raised the funds for the EP. You mentioned that it was partially recorded with musicians remotely. Was that the solution that was influenced because of the new world or that was the plan all along?
It was not the initial plan to record remotely, no. But when it was time to record those instruments we were in a lockdown so there was no other option and I preferred not to postpone. I thought I could make the best of the situation. My former roommate Yohanan Chandler, who is a wonderful composer and violinist living in Japan, offered to record the violin parts. It was very special to have him be part of this project and we wouldn't have thought of doing this remotely if it wasn't for whole lockdowns. It was a different experience working remotely and guiding the musicians to how I wanted things to sound.
"Tomorrow I am starting the rest of my life, I know it will be so much better"

Florie Namir 'Far, Far Away'
Do you remember the day when this line was born? As you sing that tomorrow seems so far away. What was happening in your life?
Yes! When this line was born I was in the middle of writing my dissertation. I was stuck in my research and it seemed like it would never end. At that time, I got into the Boston singer-songwriters scene and was performing a lot to great success. There was such a massive difference between how easy it was to make music rather than researching and writing about it, and all I was constantly running to my "safe" place of doing music. I felt with all my bones that I would continue the singer-songwriter path I discovered but couldn't go for it just yet.
Did the lockdown have an influence on how you create music?
In the practical sense of creating music, I have my home setup and most of the time write on my own so I feel restricted. But I did have my observations and emotions from that period go into a Pandemic dedicated song, like many artists have, I guess. I also found myself particularly drawn to playing feel-good songs.
I am thrilled to know that your song 'Mornings' won the UK Songwriting Contest in the Jazz category. How did that make you feel and even more importantly what were you doing when you learnt about the nomination?
Thank you! It was such a pleasant surprise. Every stage moving forward was very exciting, from getting into the semi-finals to being announced as the winner in this category. It was uplifting too, because all my performing opportunities got canceled, so winning brought great encouragement.
You had experience living, studying and creating music in Tel Aviv, Boston and then you moved to London. These are very different environments. What were the most memorable music related moments that will always stay with you?
In Tel Aviv, performing was intense because I grew up in Israel singing on remembrance day ceremonies (we have two national remembrance days each year). Singing mourning and hopeful songs have informed my performance delivery. When I sing a cover song, I always have its meaning in the back of my mind and sing with clear diction so that the story is understood.
From Boston, I will never forget how kind the audiences were. I once played a set at Harvard University Common Spaces, an outdoor concert near a farmers market. I was so inside the performance headspace that I hadn't noticed that someone left a very sweet flower bouquet for me. On other occasions, people struck up a meaningful conversation or bought me chocolates and told me their story. Once I got a lovely email from a stranger who attended my shows. She wrote how much my show meant to her at the place and time she was in her life. She ended up inviting me to play at her wedding.
Reflecting on your career, what is your biggest achievement so far?
Creating this EP is probably the biggest achievement in my career. I meant to release music for so long but it took me a while to figure out how to do it in the way that it was meant to sound. And I'm quite happy with the results. So yes, this is my biggest achievement. It's a piece of me that will remain out there for others to make it their own.
It's a piece of me that will remain out there for others to make it their own.

Florie Namir
What would you like to be remembered for?
Positivity. Life can be tough to manage sometimes; there are many deviations from our expectations. There are difficulties, and we have limitations as human beings to handle certain things. So it's nice to know there are some things to fall back to that make us feel good or less alone. I think music can act as a refuge space.
I absolutely love the idea that during the lockdown you started a weekly virtual concert series "Florie's Living Room Concerts" with other musicians. Tell us how the idea was born and what have you learned from organising these shows?
The virtual concerts were a kind of entrepreneurial action. It was a chance to control a given situation and make something beautiful. The pandemic was surprising and limiting for everyone in many aspects. I played a few songs live online and found that people were thirsty. It was a place to get together without physically getting together, you know? Although I couldn't hear the viewers on the other end, they responded and commented. Afterwards, a viewer suggested I'd give a longer show for Israel's Independence Day with Israeli songs. This concert was so special to me. I mean, here I was locked inside my apartment in London and yet I was able to reach out in real-time with so many of my friends and family. London friends ended up tuning too, and also people from other countries that don't understand Hebrew who just enjoyed the sound of it. This idea of togetherness and solidarity moved other people and me as well. It had to be an ongoing thing.
Inviting my singer-songwriter friends from the US to participate felt like a natural thing to do. As artists, we were missing outlets, virtual stages to voice what everyone was feeling. I just wanted to create an opportunity.
It was a nice way also to connect with the circle I regularly hang out with across the pond. I had missed them in my new life.
Do you have a song that when you hear, you'd be 'Damn I wish I'd written that'.
Led Zeppelin's The Rain Song. Such a masterpiece! My uncle had introduced me to Led Zeppelin and this song and it always reminds me of him. It's a song to be played in headphones in the middle of the night.
What does being in love mean to you?
Being in love to me means excitement, swirling into a place of the unknown. It also means an opportunity for self-discovery, a journey, getting to know other sides of yourself and your needs. A feeling that is bigger than life.

FLORIE NAMIR
How do you successfully juggle being both a Jazz singer and also Classical composer? From first sight, it looks like two very different worlds.
These are indeed two very different worlds. I can write a song in minutes. It will feel like capturing a moment, and I either love it or not, but I know right then. When I write a classical composition, it's a long and evolving relationship. In the beginning, I love it, then hate it and erase some of it and re-write and love it again, and the cycle goes on and on until the final double-bar (the period). There are so many details in my classical compositions I sometimes have a hard time feeling the big picture. I feel safer knowing where I am with a song. On the other hand, classical composition allows me more space for experimentation and discoveries. I'd be curious to hear what people think when they listen to my songs and my classical works.
Looking at your Instagram feed it is so wonderful to see that smiling is part of your life. Do you have a hack, what to do on a day, when one might not necessarily feel at their best? How would you put yourself into a positive state?
On a day when I'm feeling under the weather I try to treat myself to something I love. For example, having something delicious to eat or drink, my favourites are fruit tarts and hot chocolates. Calling a person I really care about or listening to a song that makes me happy are also a treat. My wise friend once said that it's good to think of ourselves as if we are a child and think how would you treat your child self. I think it's a good way to go about handling life. Being more forgiving with our mistakes can do wonders for our future ones.
What is one advice you could give to your younger self when it comes to the music business?
Go for it! Don't be afraid to try. What's the worst thing that can happen? You can do this.
What have you got planned for the rest of 2022?
I will be releasing a collaboration project that I did with a French-Cameroonian artist by the name of Franck Biyong (check out his website). I have applied for several opportunities, so I am waiting to see how they pan out. Hoping to be performing in London soon!
Is there anything else you'd like to share with our audience?
Feel free to write to me florie@florienamir.com.
Make sure to connect with Florie Namir on Instagram » Facebook » Twitter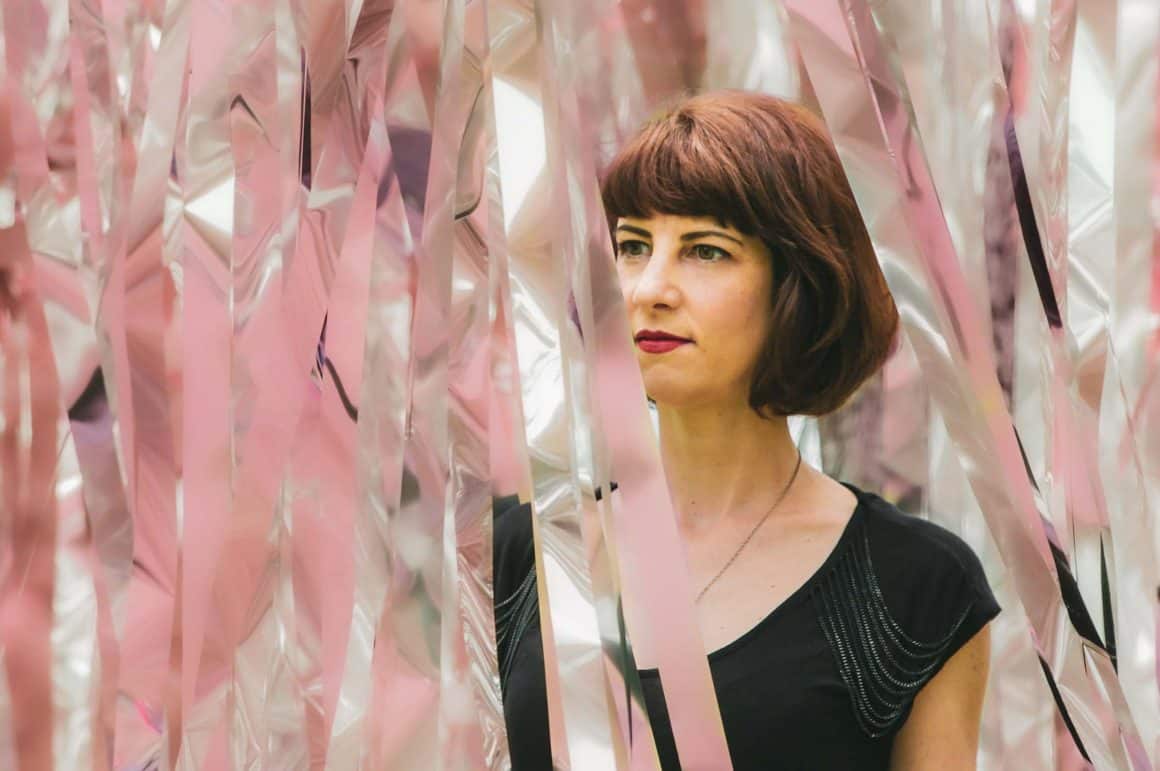 ---
We added Florie Namir to the playlist of all the artists we interviewed so far. Don't be shy to give it a listen!