Ellajay is the powerhouse songwriter who has only just started to stretch her artist wings and release her own music over the pandemic. An avid live performer, it wasn't until Covid turned the world upside down that Ellajay realised the only way to get her music out there was to start to record it and share it with the internet. Thank goodness she did, as since then we've been treated to an array of highly crafted, pop-driven tracks all with something different to offer. 'Clocking Out' came out earlier this year and is a laid back, sugar-coated 'f*** you' to those relationships that just aren't pulling their weight or stepping up to the mark. Filled with soothing, soulful vocals and percussive embellishments this is a must-listen for anyone who has been in a relationship…ever. But just when you thought you'd got the measure of her easy-going brand of pop, Ellajay dropped her latest release 'part time boyfriend', where we see her shift gears and tell it like it is. Edgy production, sassy lyrics and one of the most satisfying choruses of 2021 (in my humble opinion!) this is an artist you need to have on your radar. Hear more from Ellajay in our interview where she talks about her work in music therapy, the power of community and doing what you love.
Your latest release 'part time boyfriend' is an absolute summer bop! What was it like writing the track?
Thanks so much! There's actually a funny story behind writing that song – I was trying to sleep one night and the phrase "part time boyfriend" flashed through my mind and I sort of laughed to myself and immediately had to write with that concept. It was definitely inspired by a situation I was in – a 'situationship' if you will. So I wrote in those wee hours and the lyrics and melody started making me feel empowered by the humour and satire I was viewing the situation from. I knew I had something kinda cool melodically and rhythmic-wise, it felt very Lake Street Dive/Vulfpeck-ish. Then the next day, my producer happened to come over to get a drum and I was VERY hesitant like…um, so I wrote something *really* dumb last night, but maybe the humour will land? And I showed him this quiet little voice memo I'd made the night before where I'm like whisper-singing my ideas. It was the first verse, pre-chorus, chorus, and bridge. I finished the second verse at his house later on. But as soon as I showed him, he was like YES. WE'RE DOING THAT! And it became this really cool collaborative track with a bunch of amazing people on it! Very grateful he saw what it could be, adding all the vocal layers and the bari sax!! It was a lot of fun to bring to the studio and have people really get behind it.
I use music to help my cllients process their emotions.

ellajay
Can you introduce yourself to our audience? Maybe share something we wouldn't know about you?
Well, hello! I'm Ellajay, I'm an indie artist based in Brooklyn, NY. I'm originally from Rome, Georgia (a smallish town in the northwest part) and have been singing and writing songs for pretty much all of my life. I grew up singing in choirs and ended up studying vocal performance and music theory/composition in college and then got a master's degree in music therapy from NYU. That's probably something not everyone knows about me! I'm also a board-certified music therapist and currently work part-time at a public elementary school with children with social/emotional difficulties and/or a history of trauma. I use music to help my clients process their emotions and develop creativity, problem-solving skills, self-esteem, social/emotional skills, etc. Using music as a therapeutic means is not only an effective way for these children to boost skills and gain new ones, but it also helps keep me on my toes creatively to be able to improvise music with a child or accompany them in their favourite songs.
The pandemic really shone a light on what it is to be a musician these days.

ellajay
I have to ask, what have the past couple of years been like for you in the pandemic – in terms of your music career and for you personally?
The pandemic really shone a light on what it is to be a musician these days. It's obviously been such a difficult time for everyone and a huge adjustment. For me, part of that adjustment was not being able to perform all the time. I was performing quite a lot in NYC and became comfortable in that way of being a musician, but I didn't have ANY music out on streaming platforms to show for it. I was like an "in-person only" musician. The pandemic showed me that to keep being a musician, I HAD to record and release music. I've always been such a perfectionist and honestly scared to release stuff because it's so permanent, but at the same time, I really believe in the music I make and stand behind it, so it was time. There was no other way around it. The way things sort of had to slow down because of Covid, a sense of focus and a honing in on priorities was enforced. It was time to really commit to it and get over my fears around it. And it gave me the time and space to create the music I wanted to make and believe in myself even more. Plus, it brought the friendships and people I felt safe enough to be around even closer and I have an amazingly supportive group of friends (most of them are indie musicians too) around me that just grew during the pandemic. There's so much I hate about the pandemic, but those were definitely the silver linings.
I finally got in the studio in August 2020 with Adam and now that we've started, we're not stopping. The ball is rolling! And it's very exciting.
You've been working with a few different producers on your music. What do you like most about collaborating with different people?
It's awesome being able to work with different people on projects because everyone has something distinctly 'them' to bring to the table if that makes sense. Adam Tilzer produced 3 of the 4 singles I have out and we have more in the works! He's someone I really trust with my ideas and feel comfortable communicating all my thoughts and opinions too. He does a great job making me feel heard, plus he has a huge collection of cool studio toys, runs me through analogue gear, and has a really collaborative and supportive community centred around him as a producer that I'm lucky to be a part of.
My other producer I've worked with, Tiger Darrow, is also amazing. She's an insanely talented musician and we had worked together on some of my other songs where she played string arrangements on them. We've also co-written some songs, so I was stoked to work with her as a producer on "Clocking Out". After I wrote that one, I just had this feeling that she'd be right for that track and she did an incredible job bringing to life and giving it this really fun vibe! I'd love to keep working with her in the future too!
You are the Queen of hooks and melodic earworms. Do you have any artists that inspire you?
I love that title! Haha. Oh, I am inspired by SO MANY artists. This is a hard question because there's no way to be succinct about it or help people understand which artists inspire me when. But I'll try to answer it the best I can. I grew up heavily on The Beatles ("Help" album particularly) and Nirvana. And all the classic rock like Zepellin, The Stones, Tom Petty, I mean all of them. Then when I got a little older, like middle school age, I was really influenced by the 90s/early 2000s female artists like Sheryl Crow, Alanis Morissette, and Michelle Branch was a huge one. I was very obsessed with her first album and that was a big one in terms of songwriting and crafting a song that felt accessible to me as an 11 year old. I was always writing songs and singing my little snippets around the house. Even before I could play an instrument or read music, I came up with my own notation system so I could remember what I'd written and I would use a little tape recorder to record myself haha! I finally learned how to play the guitar when I was 16 and that's when my songwriting really just took off. It was like being able to accompany myself just unlocked all this music waiting to come out. Now it's a lot of the newish indie artists that have been coming up in the past few years that really inspire me, like Samia, dodie, Orla Gartland, Pinegrove, Phoebe Bridgers. But I also love the poppier stuff like Olivia Rodrigo, Billie Eilish, then also Lana Del Rey, St Vincent, then also the folkier Americana stuff like Jason Isbell, Jade Bird, and bluegrass stuff like Punch Brothers and Nickel Creek, and then also the funkier or soul/R&B stuff like Vulfpeck, Lake Street Dive, my recently discovered new fave Lawrence… I mean it goes on and on, this is why this answer is so hard!
I definitely had the sense of being in a small town and dreaming of being somewhere bigger.

elllajay
Growing up in small-town Georgia sounds kind of idyllic. Am I wrong?
Haha oh, it's probably one of those 'the grass is greener' scenarios. I mean, I am very lucky to grow up the way I did, but I definitely had a sense of being in a small town and dreaming of being somewhere bigger. Hence why I live in NYC now. Growing up, it felt like everyone knew everyone and I wanted to go somewhere where I could be anonymous if I wanted to. Ironically, I'm in an industry where you have to constantly put yourself out there and the goal on some level is to become known – but right now the city's still big enough to have the option of both.
What can we expect from you for the rest of 2021?
Oooh! I have some exciting things in the works. Lots of collaborative things are coming up first. A lot of it is not my news to tell so I'm going to be purposefully vague about my answers here haha. I'm singing harmonies on a very talented friend's new single coming out September 3rd, then there's a co-write with a different and also talented friend coming out after that. Then there's a certain tribute album featuring lots of artists that will be coming out later in the fall that I really can't say much about yet, because it hasn't been announced. And THEN next year, early spring, I have another single that we will release, called "And The Award For Best Performance Goes To…" 😉 My producer and I are also in talks of starting an EP soon – I have lots of music I've been sitting on that I am excited to start getting recorded and I also am continuing to write! So, basically, STAY TUNED!
Songwriting is my lifeblood.

ellajay
Would you like to share some of your journey into music? What made you want to start independently releasing your own songs?
Well, I've always been a songwriter for as long as I can remember. Songwriting to me is my lifeblood, it's how I process my emotions, it's what led me to not only becoming a singer/songwriter of course but also to become a music therapist. I started performing my music when I was 16 around the coffee shops and bars in my hometown. And then I released a full album when I was a teenager heading off to college under my real name, which that's my disclaimer if you ever happen to find it lol. That record is very cute in hindsight, but yeah wow it was DEFINITELY time to release new music. It had been 11 years. I'm excited to finally be releasing music I love and am excited to share with the world. I would love to eventually be on a label to have help mostly with the business side of things. Unfortunately for indie artists, being a musician is very hard, especially financially, but I have to keep doing what I'm doing and hopefully I'll keep growing! One thing I know for certain is I'll never not be a songwriter.
If you could wave a magic wand, what would be some of your biggest dreams and goals?
One of my biggest goals right now would be to go on tour! I would love to be an opener for a bigger artist and play to a bunch of different audiences every night and connect with more and more people. I think it'd be a lot of fun to go on the road with my band!
We love discovering new artists. Who have you been listening to lately?
I too love discovering new artists. One thing I do love about Spotify is their Discover Weekly playlist – that's how I find a lot of new music (and how I found some of the aforementioned list of artists that inspire me). I also work at a well-known music venue in NYC (Rockwood Music Hall) where I have the opportunity to hear new artists live all the time. Just last week, Lawrence played a sold-out show and I FELL IN LOVE. I think "part time boyfriend" is right up their alley musically so it was exciting for me to see them after just releasing that song. They were so fun to watch and so talented. If you haven't heard of them, check them out – they're like soul-pop-R&B goodness.
If you love it, do it.

ellajay
What's a piece of advice you would give to someone just starting out?
I think first and foremost is that you have to really love it. It's a hard business so if you don't HAVE to do it, it's probably going to be even harder for you. If you love music and love writing, keep doing it. Write it all out and edit later. I like to write in a stream of conscious way sometimes, and follow where a rhythmic pattern of a phrase or where a rhyme leads me (which usually, surprisingly, holds weight and unlocks some unconscious metaphor). It helps me get the words out so that the thoughts/meaning will start to show themselves, and then I'll figure out all the musical elements around it after. Sometimes I start with music though so it just depends, but don't be too self-critical or perfectionistic because that will just get in your way. I definitely let it get in my way at first, but I'm happy to be in it now and just doing it. If you love it, do it.
Anything else you'd like to share?
Thank you so much for listening/supporting/caring!!!
Make sure to connect with Ellajay on Facebook » Instagram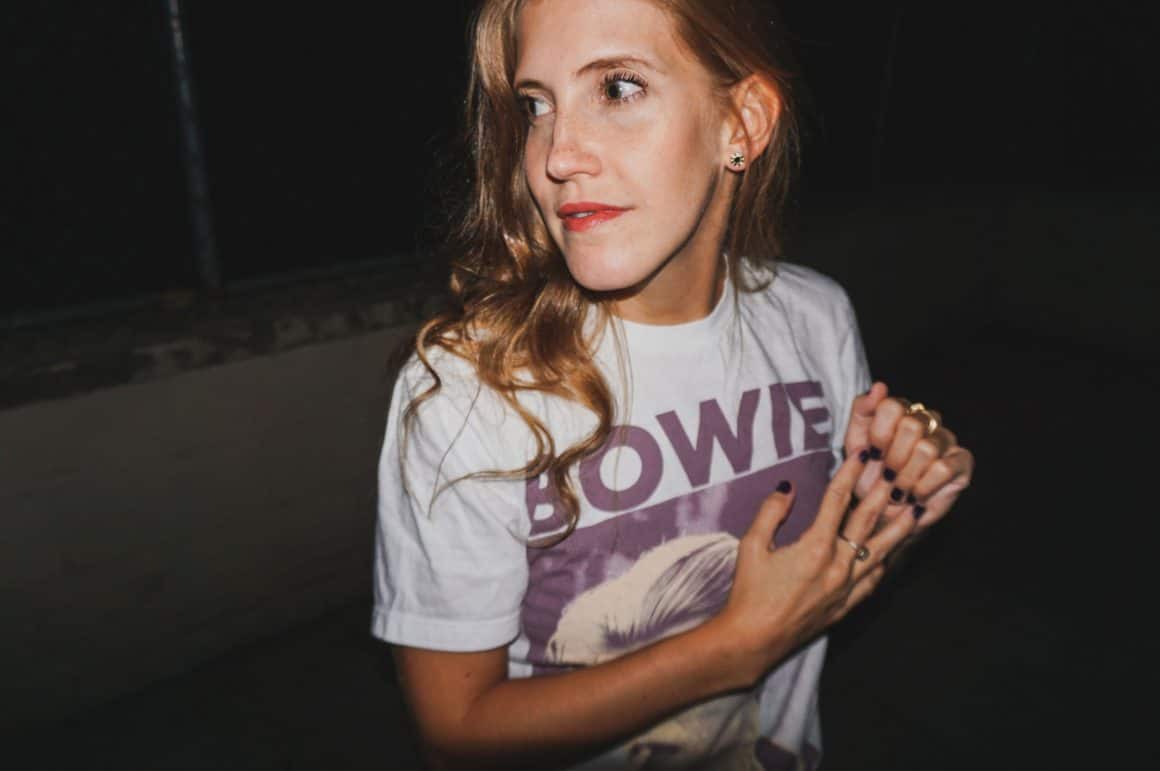 ---
Introducing » Artists We Interviewed